It's funny how just as I'm about to wrap up one of my lectures, the strongest spirits come through to me.  One afternoon in particular, I heard a voice that was directing me to a couple in the front section.
"I feel I want to come right here," I said pointing to a couple. "Which one of you lost your father, please?" The husband raised his hand.
"Your dad is here," I went on. "But, he's got someone with him who really wants to come through. Did you and your wife lose a child?"
The couple sadly acknowledged losing their son. At this point, the link was crystal clear, so I gently went on, "I feel that he passed from an illness, and I can feel a slight pain behind my eye. Was he eight years old?"
The husband looked directly into my eyes. It was clear that he was obviously reliving the day that his son was diagnosed. "Ryan, passed away from a brain tumor, and he'd just turned nine when he left us."
The entire audience could feel the love for that boy, and everyone was being touched by this final message of the afternoon. I could feel the wave of compassion being sent to Ryan's parents.
"Your son keeps saying to me, 'My daddy was holding me and I died in his arms.'" Tears flowed down their faces, and I noticed many of the audience members wiping their tears away.
Ryan clearly wanted me to go on, "You have one daughter, is that correct?"
"Yes, we have a daughter, Erica," the wife confirmed.
"Well he's saying that he's an uncle now."
The couple was thrilled to hear this. When a child is born after the loss of another family member, such as Ryan, there's a sense of sadness thinking they'll never get to know the newborn child. I told Ryan's parents and everyone else in the room, "Don't worry if a child is born after someone passes, because in reality, they met your child first. They usually meet in the Spirit World before the child is born here."
"Please tell your daughter he's watching over her and the whole family. He's happy and loves you all so very much. He's with his grandfather and he didn't want this afternoon to end until he came through to let you know that."
As everyone started to make their way out of the lecture hall, Ryan's parents walked up to me with their faces glowing brighter than when they'd arrived. The husband shook my hand, and I gave him a big bear hug. His wife, with eyes still full of tears, kissed me on the cheek, and softly whispered in my ear, "God bless you, John. I waited 21 years for that message."


JOHN'S MESSAGE                                                                                 

Years later, I had the opportunity to speak with Ryan's mother again. She shared their experience with so many people since then. Then she thanked me and said: "John, I now know that love goes on forever, and there are signs and wonders all around us."
We can all learn from these wise words, and it proves to me once again that in a way, we are all spirit whisperers. All we have to do is simply…listen.
If you've a story you'd like to share, we would love to hear from you by sharing your story on my Facebook page!
Equally, if you want to share this newsletter with anyone you think might might appreciate reading this, feel free to share this Soul Inspirations or recommend they join our community.
Live a Soul-filled life!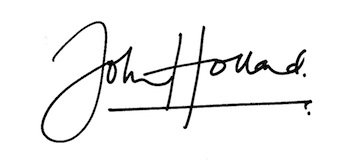 Learn to Communicate with your Loved Ones on the Other-Side
"Your soul is constantly sending you messages of healing and guidance in the form of signs and symbols. 
Once you learn to recognize these messages, and act on them ... a whole new world will open up for you!" 
JOHN HOLLAND - Spiritual Teacher & Psychic Medium 
Bridging Two Realms: Learn to Communicate with Your Loved Ones on the Other-Side