Do you have moments when you feel disconnected from your true purpose?
Do you sometimes wonder exactly what your purpose in life is all about?
We've all had that nagging feeling when you know it's time to make a change and take a new direction in your life. You may have a vague sense of what your true path might look like. But if you have no clue at all, that's okay. Just follow your intuition.
As young children, we tend to express our true nature and are easily drawn to what we feel is intrinsically right for us. But as we grow up, life circumstances and expectations of well-meaning loved ones and society as a whole steer us to what is considered more practical and acceptable. No wonder we feel such a sense of disconnection and start questioning our life direction!
Your life purpose doesn't necessarily have to be your regular job or even something you're paid to do. You'll start feeling it deep in your soul when your path is right for you. You'll start to sense a deeper connection with others and become more intuitively led to make choices that are more in alignment with your soul.
Look for clues in your life of how your true purpose is trying to reveal itself to you. Start by asking yourself the following questions. Jot down your thoughts in your journal.
What do you enjoy doing so much now that you lose all track of time?
Who inspires you most? What qualities do they have that you dream of having?
If you could wake up tomorrow with the ability to do or be anything you desire, what would it be?
JOHN'S MESSAGE                                                            
When you let yourself visualize your ideal life without boundaries and without the fear of criticism or judgment, you'll be able to open the door to your soul and boundless opportunities.
You may not find the answers overnight, but they will come. Take on the mindset of an adventurer and an explorer. Be open to the clues that your soul will place in front of you. Discovering your life purpose is more about the journey rather than the final destination. Enjoy every precious moment!
If you know someone who may like to get this message, feel free to share this Soul Inspirations or recommend they join my newsletter list.
Live a Soul-filled life!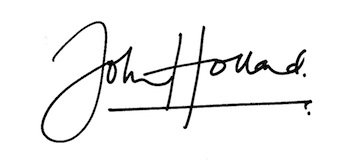 Learn to Communicate with your Loved Ones on the Other-Side
"Your soul is constantly sending you messages of healing and guidance in the form of signs and symbols. 
Once you learn to recognize these messages, and act on them ... a whole new world will open up for you!" 
JOHN HOLLAND - Spiritual Teacher & Psychic Medium 
Bridging Two Realms: Learn to Communicate with Your Loved Ones on the Other-Side