I want to share with you the following special story of a dad's love, in showing that he really is there for his son and family.


Just this week, I gave out two of my books that had 'sand dollar' connections. I was out enjoying the day in the beautiful town of Newburyport, MA and came upon an artist who was displaying her creative work using real sand dollars. She had jewelry, night lights, and colorful plaques. With each item there was a story of the sand dollar and how they relate to the five doves that visited the three kings on that special night in Bethlehem. I told her that they also had a special meaning to someone else I know. I told her the following story below and said it was in a book. She said: "Now that's a book I'd read!"


That day in Newburyport was also a day I decided to do what I've often done in the past, which was to leave my latest book : Bridging Two Realms – Learn to Communicate With Our Loved Ones On The Other-Side in a random place for someone to find. I trust that the right person will find it and it could be just when they need it. I didn't even have to leave it somewhere, as I felt the urge to give it away right then and there! I reached into my bag and gave this woman a book. She offered to pay me, but of course I refused the money. The book was meant for her!


Then the very next day, I was at a local food store that I often frequent and noticed that the cashier had a tattoo of a fisherman on her forearm. She could see that I was admiring the tattoo and she told me it was in memory of her husband and that he passed away from a sudden heart attack a few years ago. She went on to say that tomorrow was a big day for her and her family. I asked her why?


"Is it the date you lost your husband?" She said: "No, tomorrow my daughter starts high school and she is nervous and we so wish that my husband was going to be there to support our daughter."


As she started to well up with tears, I once again realized the 'sand dollar' story needed to be told. Now, she doesn't know me personally or what I do for a living, so I had to tread lightly. I went outside and grabbed a copy of my book and told her the sand dollar story and that I felt the story and book would help her because it is so similar to what she's going through. She took the book and thanked me, wiped the tears and put the book aside to help the customers that were now in line.


I hope the following extract from my book somehow helps you (or forward this to a friend in need) by confirming that your loved ones are around and they will do anything they can to reach out to you and give you the love and support you so need.


SAND DOLLARS | TOKENS OF LOVE


Jeri and David had this beautifully romantic ritual that they always did together. They would head off to the local beach, not to watch the sunsets but to stroll, holding hands and looking for sand dollars that would wash ashore. It was their special time together, and it would be rare for them not to bring a few sand dollars home. Every token became a special memory of their romantic walks together.


They married and had two young boys, and everything seemed almost perfect. It came as a terrible shock when David developed an aggressive cancer and passed away far too quickly. Jeri lost the love of her life, and their children lost a doting father.


One day, some months after David passed, Jeri was hanging out in the living room with her youngest son, Logan, who was eight years old at the time. They'd both been thinking about David a lot recently. Logan was starting a new school year, and she knew that he wished his dad could be there for this big day. Sensing Logan's mood, Jeri reached out and whispered, "Do you want to join me for a walk down on Sand Dollar Beach?" Before she'd even finished asking, Logan had hopped off the couch with a smile and took her hand. That was his answer!


It was the first week in September, and the beach was practically deserted. Without a word, they both started looking for sand dollars, just as Jeri and David had done together so many times before. They walked up and down the beach, pushing mounds of sand aside, scouring the shore for their treasure. Yet no matter how hard they looked, they couldn't find a single sand dollar. Logan's face couldn't hide his frustration and disappointment. Jeri looked up to the sky and said in her mind, David, please send us a sign. Logan is starting school tomorrow, and he really could use a hello from Heaven from you right now.


Jeri turned away for a moment, so Logan wouldn't see the tear trickling down her face. It was then that she noticed a small boat approaching the shore. She could have sworn it wasn't there before, and she didn't know where it had come from. The man in the boat stood up waving and yelling, "Hi! Are you looking for sand dollars?"


"Yes!" the two yelled back in unison, a resounding roar of excitement.


The man smiled and pointed, "Give that sand bar over there a try!"


Jeri and Logan thanked the man and ran across the beach. She glanced back for a second, but he'd already turned the boat around and left. She thought how strange it was that this man hadn't asked them if they were looking for shells, sea glass, or even heart rocks. Instead, he'd specifically mentioned sand dollars!
Logan ran ahead excitedly, hoping to find just one memento. He soon saw, to his amazement and delight, a crisp sand dollar sticking out of the sand! Then another and then another lay before him. The more they looked, the more they found.


Jeri smiled as she heard her son shouting in joy, "Mom, mom, here's another one!" They found so many, they filled every pocket they had. As they walked back up the shore, they counted a total of 43 sand dollars. Logan looked up at her, smiling, his eyes full of tears, "Mom, this is better than winning the lottery!"


In her heart, Jeri knew it had been David who'd helped them. She closed her eyes as she felt a gentle breeze caress her face like a kiss. Her skin tingled with his presence.


Logan kept asking, "Mom, how did the guy in the boat know what we were looking for? I bet it was Dad saying hi!"


Simple signs can be profound. A special symbol, unique to you, has a way of filling your heart. Now, whenever Jeri walks along that special beach, whether alone or with her sons, she knows that David will be right beside her.


I'm sure there will be many more sand dollars (and other ADCs) waiting for Jeri and her family.


I hope you enjoyed this short extract from my book.


Live a Soul-filled life!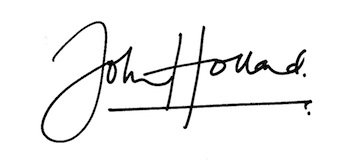 Learn to Communicate with your Loved Ones on the Other-Side
"Your soul is constantly sending you messages of healing and guidance in the form of signs and symbols. 
Once you learn to recognize these messages, and act on them ... a whole new world will open up for you!" 
JOHN HOLLAND - Spiritual Teacher & Psychic Medium 
Bridging Two Realms: Learn to Communicate with Your Loved Ones on the Other-Side