"Troubled by questions all my life, like a madman, I have been knocking at the door. It opened! I had been knocking from the inside." -Rumi
I've Been Thinking...
This week, I interviewed Dr. Mehmet Oz about his mother's recent Alzheimer's diagnosis. As his friend, it ached me to learn that he and his family are now confronted with this mind-blowing disease. Long after the interview was over, though, I found myself thinking even more about something Dr. Oz had said to me about himself. I found myself thinking about how he said he felt shame and guilt that he had missed the warning signs of his mother's health.


A one-woman show of my paintings opened at Commonweal in Bolinas, California (August 14 - October 31, 2019) on a Saturday in mid-August. It's called Daily Bread, from a quote I've always loved of Emerson's: "The sky is the daily bread of the eyes." As I wrote in the introduction to the show, 
"The sky is the daily bread of my imagination—always there, ever-changing, never static, vast, wondrous, soul-nourishing, full of mystery and awe."

"The sky is a visual way to think about life—and to keep perspective on our own experience. It's so much greater than the sum of its myriad parts, overarching everything, seductive with the constant movement of the atmosphere, enchanting as it keeps us engaged in the present moment."
Having my own show, at Commonweal, where I had cooked for the Cancer Help Program 20 years ago, was an astounding experience where, in the healing space of Commonweal, my paintings took on a magical life of their own.
I'd never seen these 13 new paintings together before, much less in the beautiful 1,500 square-foot gallery at Commonweal. I couldn't truly know how they would look and feel until I hung the show in the gallery the Monday before, and until the people were there to interact with them—people who are really special in my life, along with memories of people who have passed.
Self Care is a multifaceted process of engaging in activities that promote a healthy functioning in us and enhance our well being. Self Care is completely vital to build resilience towards stressors, which seem to be inevitable in our lives.Looking after our minds and bodies is completely essential in creating a balance, with the aspects available for living the best possible life.
SELF CARE AS A LUXURY


Many of us grow up thinking that it is essential to believe, that we need to suppress our inherent desires, and lead a strict and disciplined life in order to reach our desired goals. In true reality, this is not at all the case. We need not assume that Self Care is a luxury.
SELF CARE AS A PRIORITY


It needs to be viewed as a priority. It is essential, to keep the mind, body and spirit, completely in sync, to feel relaxed and easy, and to be able to handle life, from a positive perspective.
Most people feel overwhelmed, tired and ill equipped to handle life's challenges, as they seem to view Self Care as a luxury, and therefore deprive themselves the comfort of a balanced life.
The 21st century is the era of development and advancements, with innovations taking place at every corner. The miraculous mind is working hard day and night to build a better future. With the increasing updates every day, our mind often sets back and becomes a victim of stress. Just like every other machine needs rest, our mind functions in a similar way, but to cope up with the competition and the dynamic life we often ignore this factor pushing down our efficiency and inviting stress.
Office today has become more stressful than ever, barely giving an employee any time for his personal work. The huge workload and decreasing deadline pressure add to the stress and anxiety. The lives won't become any easy until we fix our minds and restore them to their natural patterns.


"I scream, you scream…" — you know how it goes. Ice cream is one of the most beloved foods in the world. The average American consumes more than 23 pounds of ice cream per year. And with the plant-based movement in full swing, more and more consumers are opting for non-dairy ice creams.
You may know that my family is intimately familiar with ice cream. My grandfather, Irv Robbins, co-founded Baskin-Robbins. At the time, most folks seemed content with vanilla, chocolate, and strawberry — the classics. But he thought there should be more flavors — 31, in fact! And he brought smiles to a lot of faces.
Unfortunately, in case anyone on the planet missed the memo, ice cream is not a health food. It turns out that despite its delicious flavor, eating a lot of ice cream doesn't do any favors for your long-term health.


Why Ice Cream Isn't Healthy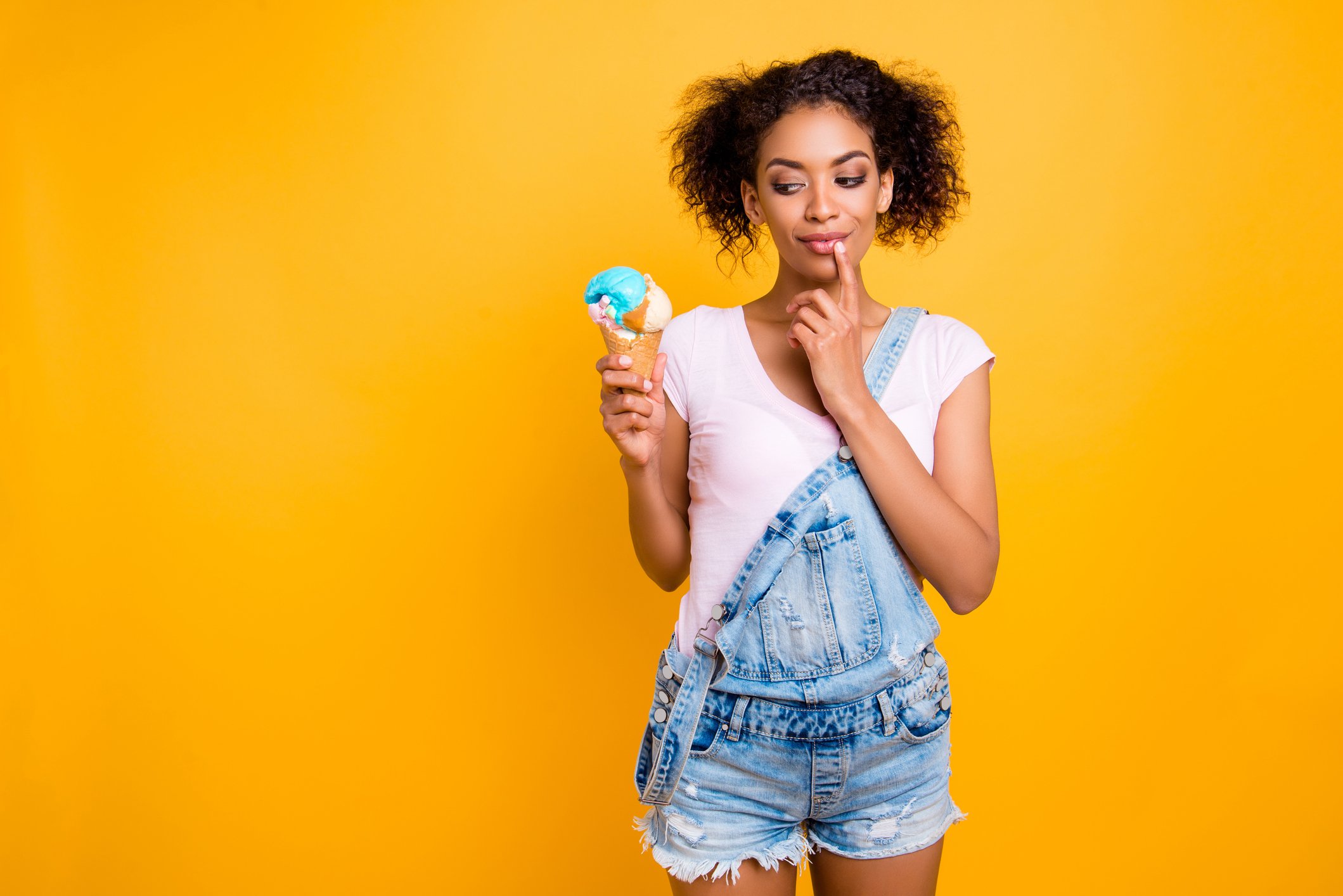 Summer is amongst us and in full bloom. It usually signifies a happy season for most of us. As children Summer meant no school, longer daylight hours and more time to just enjoy youth. As an adult, it usually means vacations, barbeques, and delicious seasonal foods. I remember as a child looking forward to the last day of school because it meant that boating with my family on the Long Island Sound was coming-up. 
Unfortunately, sometimes the warmer seasons don't bring joy to everyone. There have been many studies that suggest that suicide increases in warm weather. Annie Hauser, writing in Weather.com, talked with Professor Grady Dixon in 2014 and writes,
" Spring is when severely depressed people can be motivated enough to take action and do something. In most people, depression creates overwhelming feelings of listlessness and disinterest, so the idea of putting together a plan to commit suicide is too difficult during the winter, when depression symptoms may be worse in some people, he (Dixon) said. "Another hypothesis: [Patients] know how they're affected by seasonal winter depression. They anticipate they'll feel better when spring and summer roll around," Dixon said. "When they don't, that's a catalyst for suicide." One of the oldest theories holds that people who are depressed and withdrawn during the winter don't bounce back in spring, as other people do." 
Have you ever experienced that rare moment when you've been around long enough to see signs of system-wide transformation occur before your very eyes? Dear reader, such has been the case with the role of food and medicine in the span of my professional career, during which I've devoted myself and my talents towards this very end—bringing science to the table, and food to the treatment plan.
The moment that filled my heart!
My foundation, Healing Kitchens, works with different hospitals and cancer centers to provide culinary content for their patients. We recently accepted an invitation to pay a call at Stanford Health Care. We've done some interesting work at Stanford in the past, including online, live and printed material for neuroendocrine cancer patients and for their survivorship program and website. We had modified my Cancer-Fighting Kitchen approach with specific protocols for neuroendocrine and carcinoid syndrome—two very specialized forms of cancer—and word got out. A colorectal surgeon at Stanford putting together a trial for pre-op prep for her patients suggested we meet and talk about the role food can play in patient preparedness and recovery.
The surgeon and her team were curious: what would happen if we have people shift their eating to an immune-boosting diet full of anti-inflammatory foods and also include exercise? Would it help people recover faster and with less chance of complications?
This was MUSIC to my ears! The notion of helping patients BEFORE they go into surgery with food!!!! We introduced her to my famous healing, nourishing Magic Mineral Broth. Oh my gosh, she said, is this a clear broth? I can give this to all my patients!!! Long story short, we're working on a package to go into this critical trial.
Are you ready to move beyond obsessive ruminating and worry? Are you ready to move beyond fear, anxiety and depression? What works for me can work for you too!


I used to spend hours and even days ruminating about different things – a conflict with someone important to me, a work situation, finances, time pressures. I would obsessively worry or try to figure out the "right" thing to do or how to get the outcome I wanted. Of course, I would end up drained, anxious and confused, but this didn't deter me from this addiction. It was in my blood, absorbed from my mother and grandmother.
In some wounded part of me, I believed that ruminating, obsessing, and worrying would somehow give me control over the outcome of things. I was afraid not to obsess – not to try to control others and outcomes.
But ruminating, obsessing and worrying created very low-frequency feelings of fear, anxiety, and depression…
I feel that your emotional well being is what holds the answer to your overall happiness and joy. Happiness is what the human being is looking for. This comes to us through a combination of two things, we need to focus our concentration on these constantly. 
PSYCHOLOGICAL WELL BEING


This is what is important. It means, you combine, Feeling good with Effective Functioning. This basically includes, feeling good, happy and satisfied with life.You need to feel capable and we'll supported. There are only subtle differences in all these factors. They are basically almost the same, or we can even say, on a similar vibrational frequency.
HAPPINESS


This per se is supposed to be associated with, more money, higher performance, helping others, generally all behaviors that you can identify with success. Psychological well being means, feeling happy and doing well.
I am a minimalist, but like many of you – I struggle to keep it simple. Both mentally and in the physical worlds.
National Simplicity Day was founded to honor Henry David Thoreau, on the day of his birth, 12 July , 1817, and his insistence that a simple life, lived without busy clutter and in nature, was the way to glimpse the "universal truths" that inherently lie deep within each of us. He suggests that these truths get buried by our attachment to the material and the status quo.  Celebrating the mundane, the simple acts of daily life, the arrival of the first spring flower or bird, as miraculous and soul sustaining. 
A life of simplicity, lived in natural surroundings is ideal, maybe a goal to try to attain, but impractical for the majority of urban dwellers. Maybe you don't have two years to go live in the forest. Maybe, like me,  you can't even take the whole day out of your busy schedule to idle in the wilderness. However, the neighborhood park or arboretum could be just the ticket for an afternoon of unplugging. Take a copy of Walden Pond with you for some inspirational reading, or as the case may be, re-reading. Make a point to get down to the most basic of equations, ( you plus nature equals biophilia) for at least an hour or two. Biophilia is the recently scientifically determined phenomenon that humans feel good in nature. Proven by millions of dollars and countless hours of research, and not by millennia of humans liking to watch sunsets, take picnics with loved ones or sit by waterfalls or in our gardens.  When I was in Japan recently I went " forest bathing "
The oddly paradoxical aspect of this theory is that Nature, taken in its entirety, is really anything but simple. It is a complex interwoven net of conditional systems,constantly varying and completely dependent on the absence or presence of one another.


Imagine for a moment a man walking through his office when his boss passes by and gives him a blank look. Suddenly the thought pops into the man's mind that his boss is criticizing him or doesn't like him.


Now, as he starts to fear this idea, a negative picture is produced by his imagination. His mind focuses its attention on this disturbing image. And the more he attends to this dark dream, the further into its labyrinth he descends, strengthening its presence and power to further frighten him. A heartbeat later, he has no doubt: the boss has it in for him!


This thought grows in authority for him, tormenting him for the rest of the day and causing him to snap at his family when he gets home. And all of this suffering is born of what? The conjunction of a passing glance and a moment of misdirected attention!


Here's the amazing thing about this illustration, and what we want to learn from it: this whole drama has been played out inside of the man – storyline, stage, cast, and leading characters. But he doesn't see how this painful state is self-created; instead he believes it has been thrust upon him by someone else – his heartless boss! So, what else can he do – being in the dark as he is to his true condition – but try to rid himself of his stressed feelings?


Meantime there are different suggestions for controlling tension and sadness, there's yet a disengage. Maybe a holistic concept to these kinds of psychological impairments can connect the void.
Every single day, I discover all new means to handle my many mental sicknesses. I choose mind-calming exercise, important oils, and also treatment. No matter the number of methods I use, however, I am always open up to unique techniques. I cherish every holistic treatment to tension and hopelessness because, by using such methods, it's essential and focuses on entirely you.
Working on your overall being is what is required for mental sickness.
Going for the holistic process
When you decide on the holistic solution to stress, you instantly give your distressed sentiments a sanctuary from the world. With sadness, you let yourself feel the darkness and yet approach the light in the exact instant.
I suggest a couple of different solutions to incorporate a holistic concept.
"Reaction: a boat which is going against the current, but which does not prevent the river from flowing on." — Victor Hugo
My entire life, I've always been that person who says to the doctor, "I'm not allergic to anything."
I've also been that person who reads the potential side effects of a medicine and declares "not going to happen to me."
Well, lo and behold, this week I got an adverse allergic reaction to something that was supposed to help me, and it landed me in bed for two days. Of course, it also got me thinking…
Initially, I was mad at my doctor. I have a pattern of doing this, and I know I'm not the only one. We look for someone to blame or get mad at when something doesn't go our way.
On the first day, the doctor was calm and said, "Maria, I mentioned this had side effects. Perhaps you didn't listen."
I replied, "Um, no you didn't mention this kind of side effect because if you had, I would have listened."
By the second day, my condition had worsened and my doctor said, "Well, there are always some people who have adverse allergic reactions, but we don't know about them until they happen. So now we can tell others about yours and that will help them."
"Um, great." I thought. "Glad I could help."
As I sat holed up in my room looking like something I can't even describe, I started looking for the lessons in this experience. (Yup, I'm always trying to find lessons.)
For one, all this is yet another reminder that there is a severe lack of knowledge about women's health in America. We're in the midst of a massive gender research gap in medicine and science, which in turn leads to a massive gender gap in knowledge. Meanwhile, the women on the ground are the ones dealing with the ramifications.
In recent years the self-care movement has been gathering momentum, and in many ways it is a natural extension of what came before, which was prevention. Both put the focus of remaining well on the individual. Instead of running to the doctor's when symptoms appear, prevention taught people to avoid risks in advance. Giving up smoking to prevent the risk of lung cancer was a milestone in prevention over fifty years ago, and since then a host of preventive measures have been discovered.
But prevention focused on disease rather than wellness, which made room for self-care and its aim to attain lifelong well-being. A positive lifestyle that benefits both mind and body lies at the core of self-care, and important breakthroughs are being made, such as the vital importance of avoiding low-grade chronic inflammation and also chronic stress. Yet few realize how revolutionary self-care can actually be.
What if the self, all alone and unaided, is the ultimate healer? On the one hand modern medicine would hotly and even violently reject such a notion. Mainstream medicine still has objections to self-care insofar as it encroaches on the expertise of doctors and the accepted treatments through drugs and surgery. Let's set aside the possible objections to the self as healer, because it's more important to get at what the concept is all about.


An opening is provided by a first-person account on a personal website by Joey Lott, who poses what he calls "
A cure for anxiety
." Lott presents himself as a longtime sufferer from anxiety whose affliction was intractable: "I failed so completely to make things better (even after years of therapy, meditation, yoga, affirmations, breathwork, prayer, hundreds of self-help books, countless workshops, and on and on) that eventually I grew hopeless. Nothing could help me, I believed. I thought I was broken."
Looking to connect with your partner in a new way? Consider a series of couples yoga poses to boost your health and happiness.

If you think finding a deeper connection with your partner, decreasing stress, enhancing your sexual relationship, and getting fit all at the same time sounds like a sweet deal, you might want to consider rolling out a yoga mat (or two).
Couples yoga is changing the way we look at the the role of exercise in relationships.
What are the benefits of couples yoga?
The benefits of couples yoga are similar to an individual yoga class and include stress reduction, increased range of motion, relief from pain, cardio and circulatory health, improved respiration and energy, better posture, and much more. Couples yoga takes these benefits one step further and also includes the element of bonding with your partner in a new way.  
By creating a shared experience, the poses in couples yoga allow you and your partner to listen to each other and work together. "Couples yoga helps bring couples closer physically, emotionally, and energetically," explains Beth Shaw, founder and CEO of YogaFit.
In today's fast track world people are suffering from many facets of anxiety disorders. Loneliness is a key factor, closely followed by fear, which could further lead to depression. 
Many people chance themselves upon panic attacks due to these feelings, as being constantly inwardly drawn and tuned in without adequate outside support, leads to a condition we could name as a panic disorder. 

People who could be categorized into this, are the ones who are coping with challenging situations, nervous disorders, fear based problems and a  general state of uneasiness. 

Most people are trying in their own variant ways,  to deal with these emotions: 

MALADAPTIVE TECHNIQUES

These are the practices followed to cope with the emotional  anxiety challenges. Most of these methods are incorrect.They will only make the emotions go away temporarily. On the other hand may even lead to enhanced anxiety, and may have a negative effect in the long run. 
The word "Yoga" comes with a deeper and more spiritual meaning. It denotes the union of almost all elements of life with the holistic version of this universe. Yoga stretches its boundary beyond the true essence of human existence yet remains a constitutive part of humanity. It is about the physical, emotional, and spiritual actuality of life. The idea and notion of Yoga can only be enjoyed at the deepest layers of your soul. The beauty of the ancient science enters our blood and soul to make us enlivened to the highest level of soulful rejuvenation. It is all about the happiness and prosperity of the planet, according to many ancient yogic texts.
Now is the time to discuss and analyze the ways Yoga helps one feel the real him/her.
A coaching client recently shared her concern of holding space for everyone in a yoga class. She was preparing to lead a series of classes abroad. My initial response; she was not solely responsible for the energy in a collective space. This mental picture has stuck in my mind.
Most of us can relate to the desire of holding space for others. We want to help our tribe feel safe and loved. Similar to a yoga teacher, maybe the greatest gift we can offer, is showing our branch of humanity, how to create and maintain their own sacred space. We can do this for our families, friends and even strangers.
Before I hold group meditations, I fill the space with love and gratitude. I welcome in our guides and all forms of love and inspiration into the space we will collectively be sharing. My intention is that everyone will experience the presence of peace, love and gratitude during the meditation. I imagine many yoga teachers do something similar. We are really just creating a place for people to slow down, and open up to the unseen. Once the connection is made, it is always available. Peace and love can be pulled into any situation, no yoga mat required.
I'm fresh off the plane from Japan, where in addition to sampling the cuisine (see my field report below) we followed the peak of cherry blossom blooms from place to place by train. Peak bloom is only one week, and which week is not entirely predictable. We hit it!  And we were utterly and delightfully besotted. :)
Many of us take the business of living life very seriously. We are very aware of our responsibilities, and in the process, one fine day, we sort of mentally wake up, to realize and understand, that we have forgotten, to take care of our personal needs. We have forgotten, who we are. That whole persona of ours, has been, by our own free will "brushed under the carpet " as we did not want to handle it, when it surfaced. We think we will handle it, as and when required. 

We do not realize, that those are the issues, which have allowed stress to seep into our being, stealthily. 


IMPORTANCE OF SELF CARE
We realize suddenly that we are feeling tired on every level. Mentally, emotionally and physically It's only when we wake up to this awareness, depleted in this manner, with a level of exhaustion on a physical and emotional plane, we realize that that we are incapable of handling stress 


We then understand that any form of Self care, like a massage, or a hot soak in the bathtub, or any activity that revitalizes us on a mind body level is essential for our extreme well being.