Bright orange pumpkins are popular symbols of fall. But pumpkins are much more than something to carve or serve in a pie.

You can use pumpkin in a variety of sweet and savory dishes. And when you discover all the powerful health benefits of pumpkins, you'll see why the humble pumpkin can be an easy and affordable way to boost your health and add color to your meals.

Pumpkins Have Been Used for Survival and Medicine
Pumpkins were essential to the Aztec and Mayan diets thousands of years ago. And early Native Americans ate pumpkin flesh to help them survive the long winters. They also ate pumpkin seeds and used them as medicine.

And when pilgrims came to America, pumpkin became a critical and nutritious food for them as well. Without pumpkins, many of the early settlers might not have survived.

One of the first American folk songs has these lyrics: "We have pumpkins at morning and pumpkins at noon; If it was not for pumpkins we should be undone."

Around the world today, most parts of the plant, especially the seeds and the yellow blossoms, are used in traditional systems of medicine. Many people in developing countries consume pumpkin regularly to get a significant amount of the energy and nutrients they need to survive.

Surprising Health Benefits of Pumpkins
Pumpkin is a type of squash. Though it's technically a fruit, it's usually considered a vegetable.

Pumpkins seeds are nutrient powerhouses. But pumpkin flesh is also rich in nutrients. It's packed with fiber, vitamins, and minerals and can be consumed regularly to help you thrive throughout fall and winter.

1) Pumpkins help boost immunity to keep you well
Both pumpkin flesh and seeds are high in vitamin C and antioxidants, including beta-carotene and other carotenoids.

In fact, pumpkin is one of the best sources of beta-carotene and the other synergistic carotenoids. Together, they give pumpkins their bright, eye-catching color.

Beta-carotene is good for your immune system because it's converted into vitamin A, triggering the creation of white blood cells, which fight infection and help keep you well.

2) Pumpkins can help cleanse the liver
Beta-carotene and other carotenoids in pumpkins improve the tissue health of the liver, and also help detoxify the liver.

3) Pumpkins help keep your eyes healthy
In addition to their immune benefits, beta-carotene and the other carotenoids, including lutein, are important for eye health.

But these are only some of the many antioxidants found in pumpkin that can help you prevent degenerative damage to your eyes.
According to the National Institutes of Health, a cup of cooked pumpkin contains more than 200% of your recommended daily intake of vitamin A — which aids vision, particularly in dim light.

4) Pumpkins can help you feel full — supporting weight loss
Pumpkin is packed with fiber, helping you feel fuller and more satisfied for longer. Fiber is associated with weight loss, too.

It slows the rate of sugar absorption into the blood and is beneficial for digestion.

5) Pumpkins help keep your skin healthy
Eating pumpkin can help improve the appearance and texture of your skin.

The antioxidants in pumpkins, particularly the carotenoids and vitamins C and E, help improve your skin's health.

6) Pumpkins are a heart-healthy choice
The potassium in pumpkins can have a positive effect on blood pressure.

A 2017 study published in "Nutrition, Metabolism and Cardiovascular Diseases" suggests that consuming enough potassium may be almost as important as decreasing sodium (salt) intake for treating high blood pressure.

Another study showed how participants with the highest amount of beta-carotene had approximately half the risk of death from cardiovascular disease compared to those with the lowest amount.

The soluble fiber in pumpkin is also useful for lowering cholesterol and triglycerides.

7) Pumpkins can help prevent cancer
Pumpkins are packed with antioxidants, and eating them often may help reduce the risk of many types of cancer.

Specifically, according to the National Cancer Institute, the beta-carotene in pumpkins may play a role in cancer prevention.

And as the NIH discovered, food sources of beta-carotene work far better than supplements, particularly when the food sources contain the full range of carotenoids.

8) Pumpkins can help treat type 2 diabetes and lower blood sugar
Eating pumpkin can have a variety of beneficial effects for diabetics — and for lowering blood sugar.

A 2009 study published in "Bioscience, Biotechnology, and Biochemistry," found that substances in pumpkin may help improve insulin resistance and slow the progression of diabetes.

Multiple studies, including a 2007 study published in the "Journal of Medicinal Food" and a 2005 study published in "Plant Foods for Human Nutrition," have demonstrated how substances in pumpkin can lower blood sugar levels.

9) Pumpkins can help reduce inflammation and the risk of arthritis
Regular intake of the carotenoid beta-cryptoxanthin, which is found in pumpkin, can cool unwanted inflammation.

A study also showed how increasing consumption of this carotenoid is associated with a reduced risk of developing inflammatory disorders, such as rheumatoid arthritis.

9 healthy pumpkin recipes for you to try
Pumpkin can be used in many ways. One easy way is to add pumpkin puree to oatmeal, along with spices, such as cinnamon, nutmeg, and cardamom.

You can also make pumpkin puddings, soups, and curries. And then, of course, there's pumpkin pies, pumpkin spice lattes, and pumpkin pancakes.

Here are some fantastic, sweet and savory, plant-based pumpkin recipes for you to enjoy:

Quick and Easy Homemade Pumpkin Puree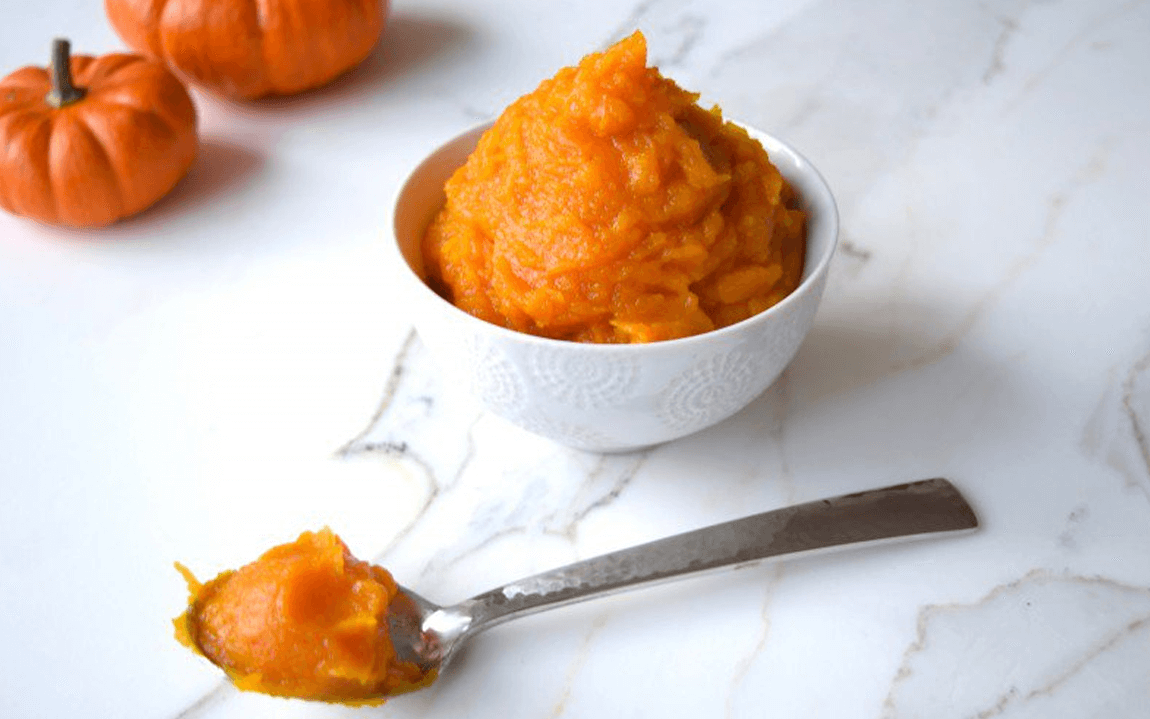 Pumpkin puree is a versatile ingredient you can use in many ways, from baking to quesadillas and pasta sauce.

Canned pumpkin is popular and convenient. But if you can find the right pumpkins, fresh is best. Try making your own pumpkin puree, and you'll see how easy is. Plus, it's more flavorful and vibrant.
Try this recipe from Maria Marlowe.

Easy, Better for You Pumpkin Spice Latte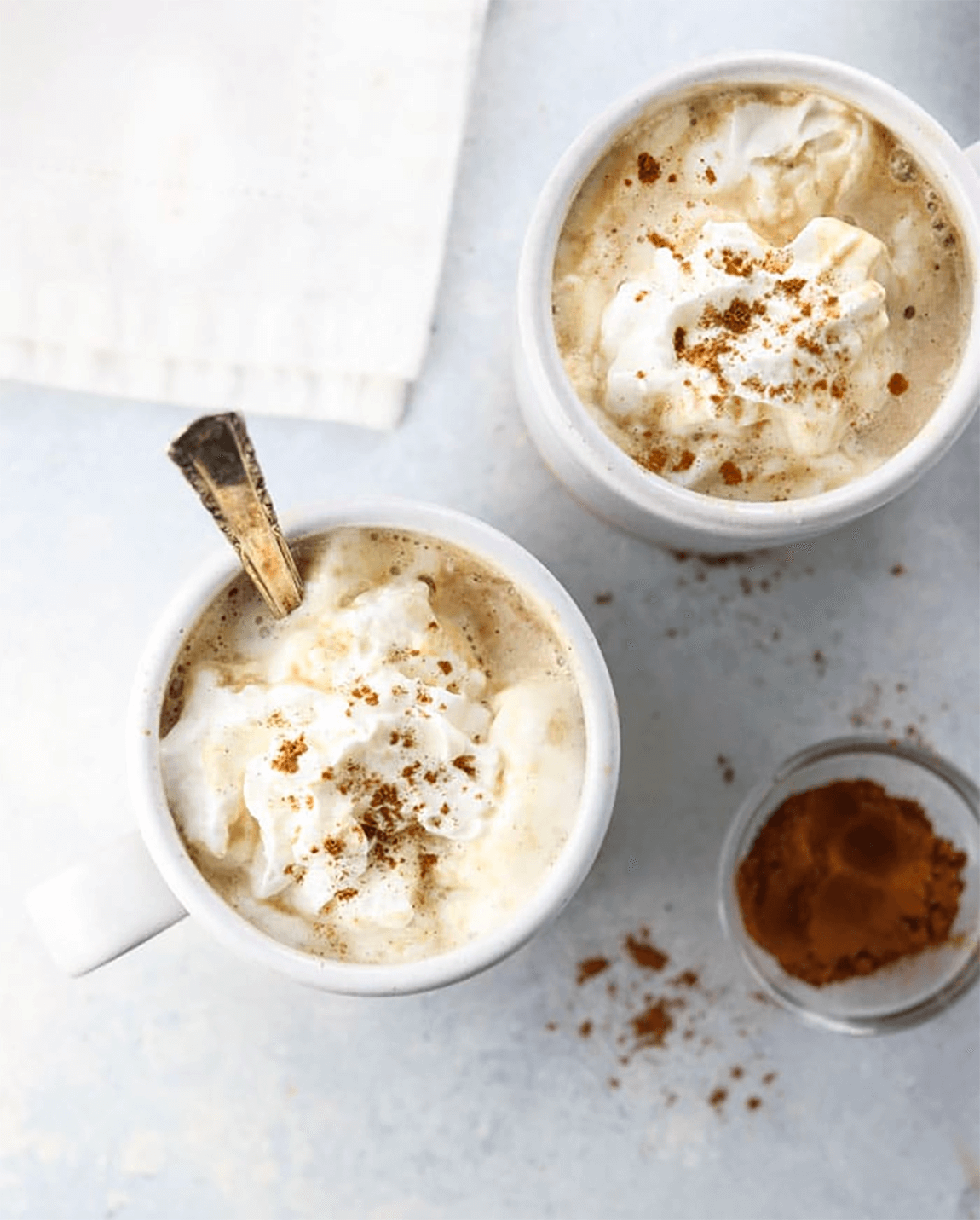 Instead of buying pricey pumpkin lattes at coffee shops, make your own and enjoy these comforting drinks more often with less guilt.

All you need to do is combine pumpkin puree, pumpkin pie spice (cinnamon, cloves, and nutmeg,) vanilla, and unsweetened, non-dairy milk in a blender or whisk together. To boost the health benefits even more, you can add a bit of turmeric. And then, warm the drink on the stove and add fresh coffee or espresso.

If you want, you can add a couple medjool dates soaked in water for a bit of natural sweetness. And then serve as is, or top with a dollop of coconut whipped cream (or cream from the top of canned coconut milk) and a sprinkle of cinnamon.
Try this recipe from the Detoxinista.

Pumpkin Cranberry Breakfast Bars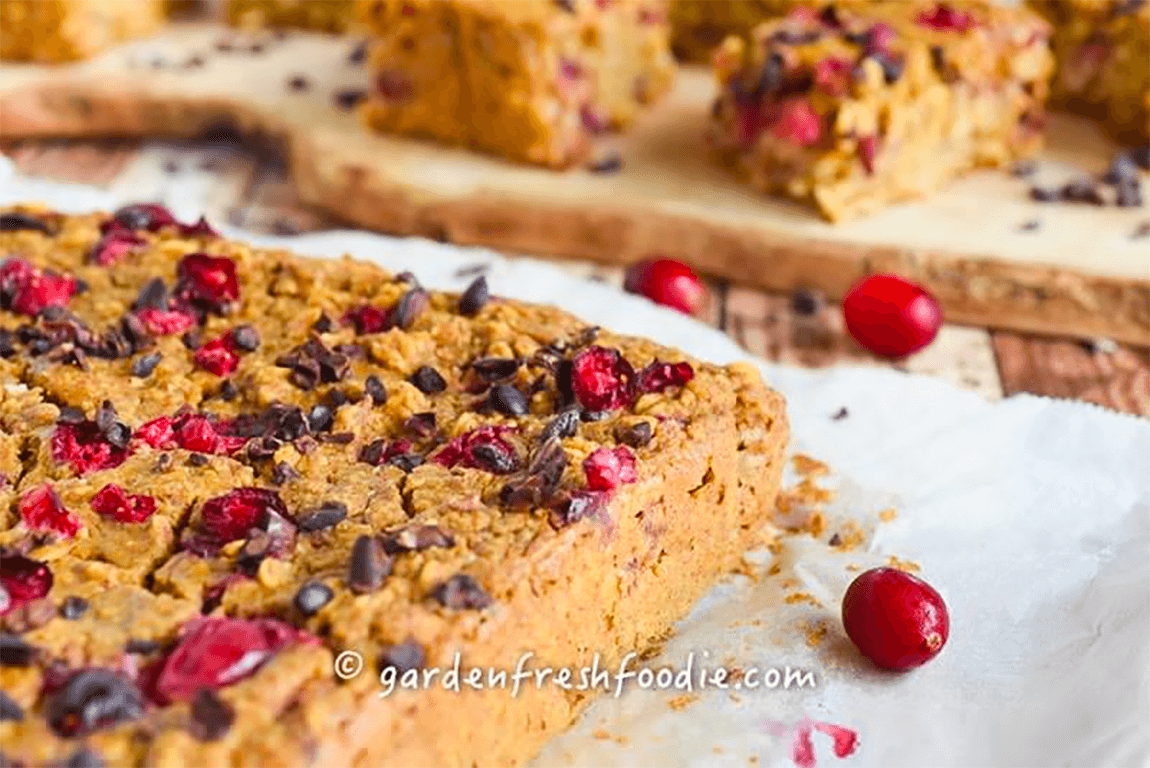 Pumpkin bars can be a great breakfast on the go. Or you can snack on them or serve them as a healthy dessert.
Try this recipe from Garden Fresh Foodie.

Sweet and Sour Pumpkin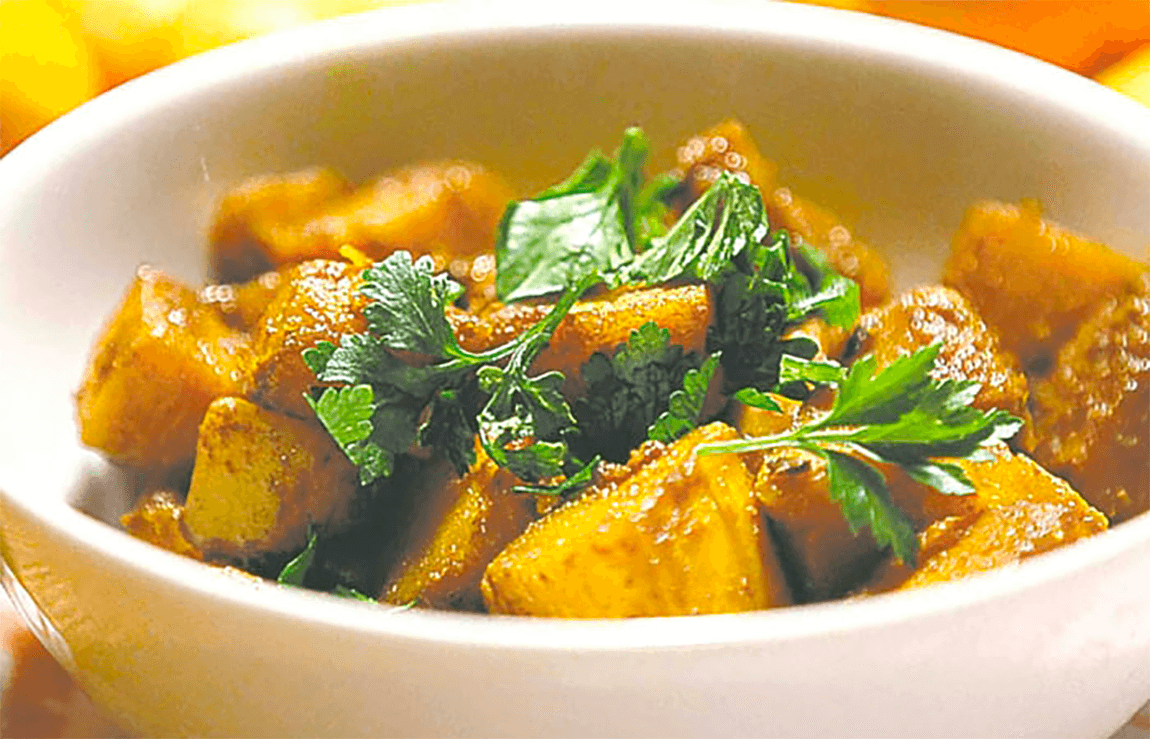 Looking for something unique and delicious? Impress your friends and family with this creative side dish for your holiday gatherings.
Try this recipe from Katie Mae at Plantz St.

Healthy Pumpkin Hummus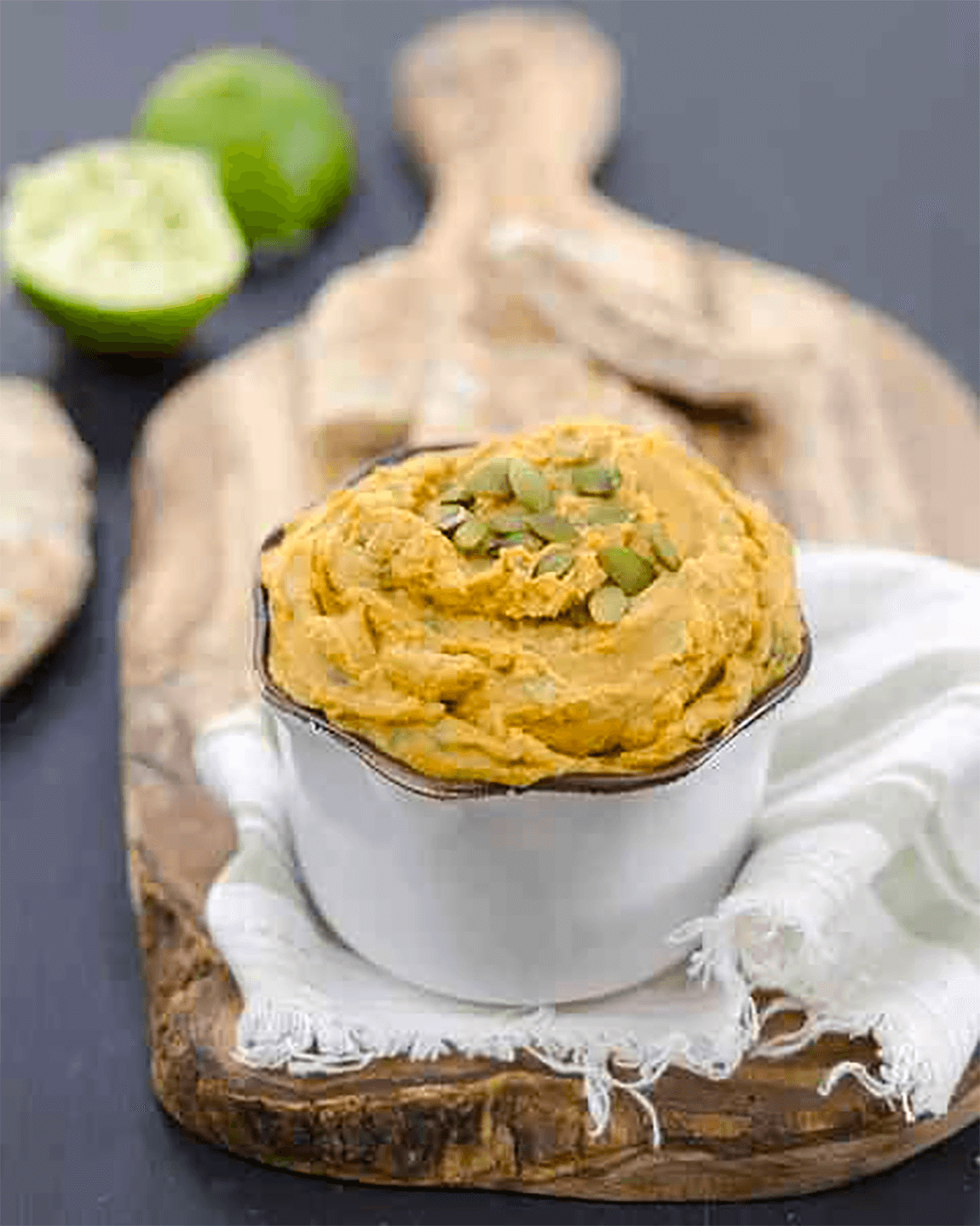 Hummus is a healthy eating staple. Add in some pumpkin for a seasonal dish, perfect for parties and for snacking served with apples or sliced raw vegetables.

If you want or need to avoid sweeteners, you can leave out the maple syrup, though the amount used is minimal.
Try this recipe from Plant-Powered Kitchen.

Healthy Pumpkin Chili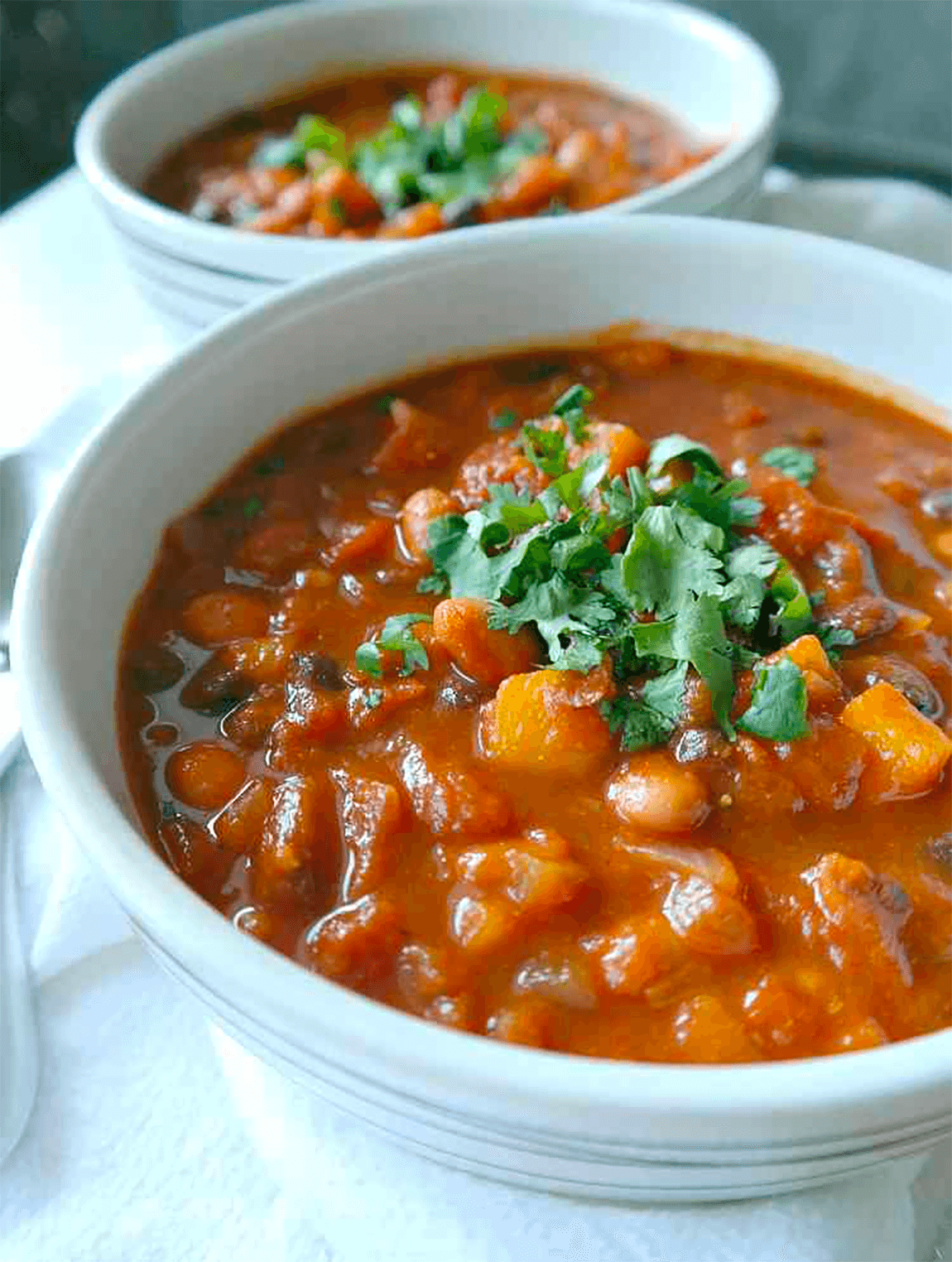 Adding pumpkin to chili makes it creamy and seasonal. And who doesn't love a good, warming chili when the temperatures cool down?
Try this recipe from The Glowing Fridge.

Pumpkin Turmeric Bowl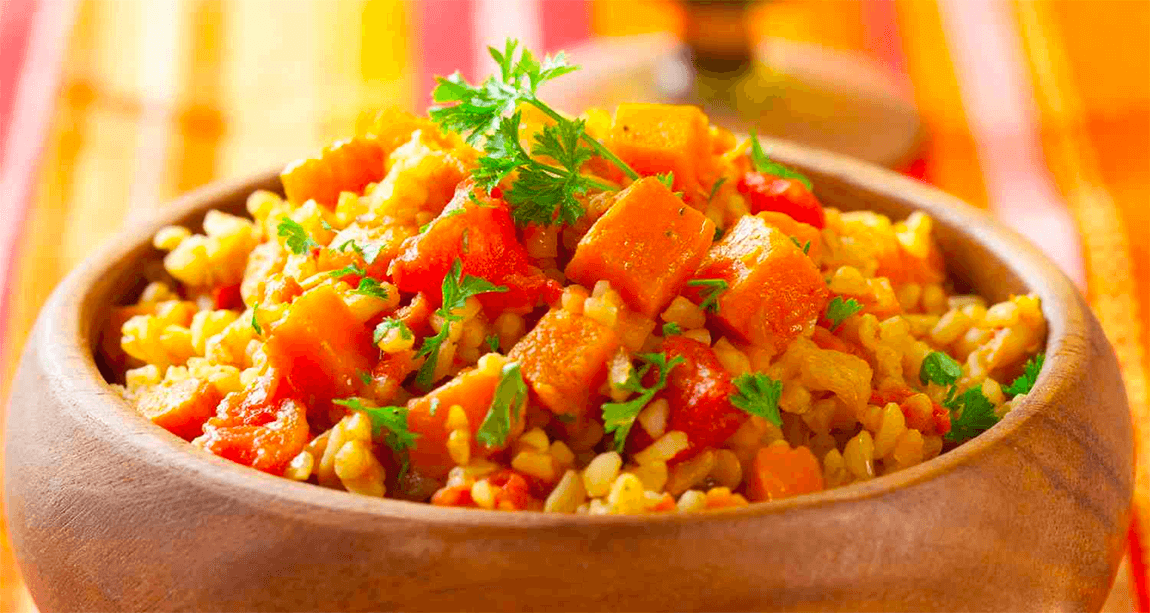 Hearty, healing, and flavorful — how can you go with this combination?
Try this recipe from Naked Food Magazine.

Pumpkin Pudding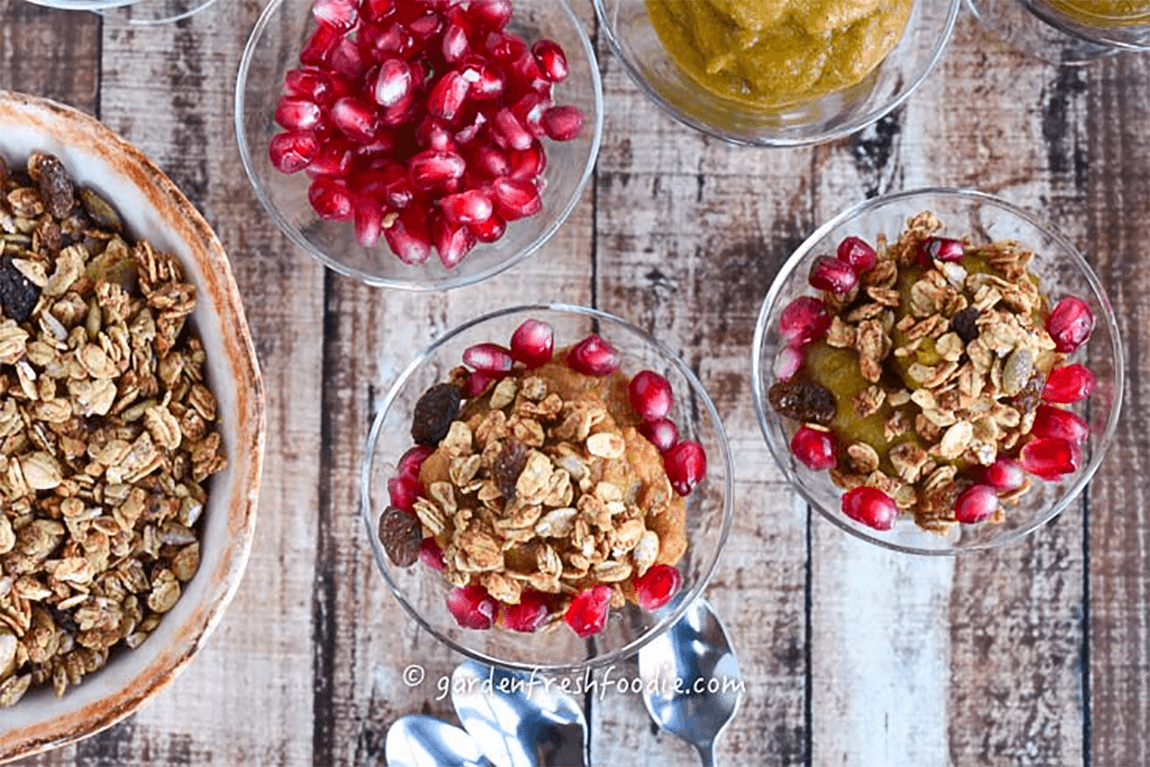 This creamy treat takes only minutes to make and is sure to be a favorite.
Try this recipe from Garden Fresh Foodie.

Maple Pumpkin Pie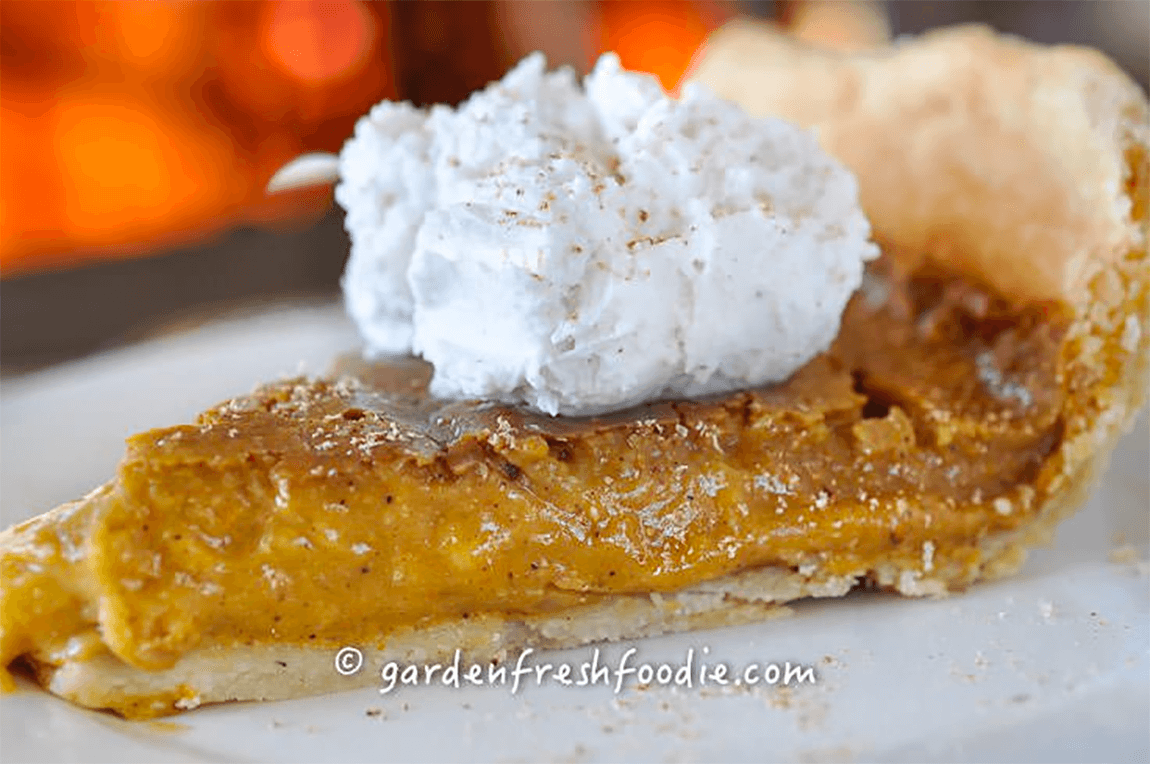 Pumpkin pies are a must for fall gatherings. This recipe was inspired by Martha Stewart's "Golden Maple Pumpkin Pie," but it's healthier and not so heavy.

It does have maple syrup, so it may not be good for those looking to limit or avoid sweeteners. But for an occasional, seasonal treat, it's a better option than most pumpkin pie recipes.
Try this recipe from Garden Fresh Foodie.

Tips for Using Pumpkin in Your Recipes:
Avoid canned pumpkin pie mixes with added sugars and sweeteners.
Use pumpkin puree as a substitute for butter or oil in baking recipes.
If a recipe calls for canned pumpkin, you can use fresh pumpkin instead (though you may need to steam or boil it first).
Though they are edible, it's best not to use the large variety of pumpkin used for carving — the jack-o'-lantern pumpkin —  for baking because this variety will be stringy, with less flavor. But you can use it in stews, as you might use white and sweet potatoes.
Instead, the smaller and sweeter "pie pumpkins" or "sugar pumpkins" are best for baking and most recipes. (In the Northern hemisphere, you can usually find these in grocery stores from late September into December.)
Many uncut pumpkins can be stored in a cool, dark place for up to 2 months after harvest. But once cut, unless stored in the fridge, you should use pumpkin flesh that day.

Make Pumpkins Part of Your Meals in a Healthy and Affordable Way
Pumpkins are abundant in harvest season — a great time to take advantage of all the health benefits of pumpkins.

But if you want to make healthy choices, stay away from the pumpkin-flavored Pringles, Pop-Tarts, Starbuck's Pumpkin Spice Lattes, and other pumpkin-themed products, which are all high in sugar and flavorings and may not contain any pumpkin at all!

Instead, enjoy pumpkins while they're in season. And remember, you can also store whole pumpkins to use throughout the winter. And it's typically easy to find canned pumpkin if fresh ones aren't available where you live.