"Real love gives freedom, and in freedom there is always choice. The choice to do or not to do."

Some Questions I Ask:
What to do if you are in love with someone, but they want to have an open relationship?
Is acting out all of your desires really freedom? What is real freedom?
If you can't have a relationship with one person, how are you going to have a relationship with 2 people?
How being spiritually evolved is monogamy?
What does loving unconditionally really mean?
My partner/wife Anne and I have been together 36 years, married 5 years. During that time, we have been present to many changes in consciousness about and reactions to LGBTQ people. It is a time of great expansion on this planet. At the moment, it can feel like everything is going backwards, but it's really just the rising and falling of waves of change. Awareness is definitely continuing to open and flower, even in the most unexpected places.
In the middle of the night, your hand was sticking up from under your pillow—so still and open—as when we finally stop reaching and are just beginning to receive. I gently twined my fingers in yours. You were so asleep, and yet you took my hand. That's how deep we can go. We hold on, even when drifting in the sea of dream. I couldn't see your face, only your hand. And with no distractions, with no dishes to wash or bills to pay, I was winded by all the things you've held and cared for, including me. This was the hand that stroked your mother's face before she died, the hand that cupped a baby bird till it could fly, the hand that cupped my face when I was so alone in my pain, the hand that learned to give our beloved dog Mira shots to ease her arthritis, the hand that sometimes doesn't know how to care for itself, the hand that renews itself nonetheless by planting things in the earth. I wanted to place your hand, like a salve, on my heart but didn't want to wake you. Then your fingers went limp, as if the dream you were falling through was coming to an end. In that moment, I feared this is what it would be like if you were to die in your sleep. I quickly squeezed your palm, and you stirred. I held you and whispered, "Everything's alright. Go back to sleep." And you turned over. It was then I put my head on your shoulder, leaning on the mystery of your heart, of my heart, of the one indivisible heart, as thousands have done throughout time.
One of my favorite TV series of the last 20 years is Law and Order. I avidly watch all of the various versions of the show and often fall asleep to re-runs! I'm always impressed with how the defense attorneys stand up for their unlikable clients, working hard to prove that one is "innocent until proven guilty."
Recently Brian was admonishing me, for the millionth time, about leaving crumbs on the kitchen counter. This has been going on forever.
I just don't see crumbs!
He told me (again) how the crumbs attract ants (also an ongoing issue).
My first reaction (as usual) was to get defensive thinking, "it's just a few ants."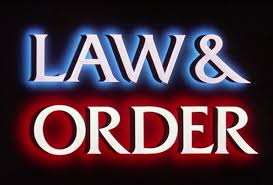 But then I thought, what if I had to defend Brian's reaction and really stand up for him and make a case for why he was right???
"Where you see wrong or inequality or injustice, speak out, because this is your country. This is your democracy. Make it. Protect it. Pass it on."  — Thurgood Marshall


After my daughter watched the documentary Finding Neverland the other night, she wrote me a note that landed deep in my soul.

She said, "Thank you for such a wonderful childhood. Thank you for loving me. And, perhaps most importantly, thank you for always protecting me."

I sat and stared at those last two words.

Protecting my children has always been a huge deal to me. I know it is for most parents. It's our job to keep our children safe. It's our job to be on guard against people or situations that might seem appealing, but are actually dangerous. It's our job to build resilient children who can pave their own way and stand on their own two feet.

Over the years, I've thought a lot about the role of "the protector." I've thought about how, when I was young and naive, I thought it was a man's job to protect. Now as a seasoned protector myself, I no longer hold onto that childish view.