This past weekend I was honored to officiate my first wedding…my beautiful niece Rachel and her soulmate Jason.
It was an inspiring, beautiful, and fun event with more than 250 friends and family gathered in the French Quarter of New Orleans to celebrate and bless the love they share.
One of things I became very aware of over the weekend was the palpable and constant waves of happiness.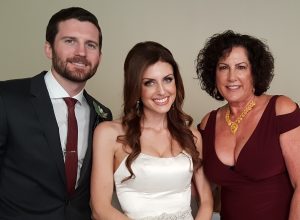 Seeing the delight on the faces of the bride and groom and their parents and closest friends brought smiles to everyone.  The vibe was one of infinite possibility, not just in the realm of love, but for all aspects of life.
The wedding was a great reminder to me of the importance of multi-generational gatherings and how we all need and want to be connected to our tribe.
From the great-grandparents in the room to the smallest babies and toddlers, everyone was delighted to be in the presence of love.
I can't wait to do it again!
Wishing you love, laughter and magical kisses,
Arielle
As you awaken your Kundalini, you begin to liberate more energy not only for your spiritual life but for your career, your creativity, and your service in the world.
In this online event, spiritual teacher Raja Choudhury will offer you potent, practical insights into working with this powerful energy safely and harmoniously to deepen and enrich your experience of life — bringing more joy and bliss.