I've always followed the food trends—what's in, what's out? They can be as trendy and entertaining as fashion. As the new year, new food articles come out, sometimes I laugh and sometimes I grit my teeth. We're inundated with how to be healthy and hip.
Apparently in 2020:
Eating blue food is in. (Blueberries have always been "in" for me.)

Awareness that how we eat affects global warming is up. (A necessity, not a trend.)

Impossible Burgers lead the food industry parade of new food. Everybody's excited about a burger made of plants with meat-like qualities. (But—are they really made of plants?)
Here's the trend I'm seeing: it's simplifying. 
Wouldn't it be great to take the stress out of going into the kitchen? Make cooking NOT this complicated thing in our lives, especially when there are so many demands on our time? 
We're all being bombarded by a LOT of information, about the planet, the politics, your kids, your dogs… life happens fast, but we have to keep ourselves nourished. We need to find a simple way.
I look back at my first cookbook and think gosh, could I have made this recipe more complicated? With a laundry list of spices, including ⅛ teaspoon of cardamom? Like I couldn't live without that? I say this as the author of 5 cookbooks and someone who's helped chefs in restaurant kitchens, home cooks, community cooks… the whole spectrum.
This is my year to crack the code and come up with a formula.
I'm putting it out there, the challenge I've set myself that I think will help many of us. What if it could just be simpler? 
Soul food is a variety of cuisine originating in the Southeastern United States. It has been a cultural staple among the African American community for centuries — starting as a means of survival during the many decades of slavery and evolving into many modern-day variations.
Writing for the blog, Black Foodie, Vanessa Hayford tells us: "During the Transatlantic Slave Trade, enslaved African people were given meager food rations that were low in quality… With these rations, enslaved people preserved African food traditions and adapted traditional recipes with the resources available. Over time, these recipes and techniques have become the soul food dishes we are familiar with today. This food genre… was born out of struggle and survival."
Few foods generate as much passion as chocolate. Perhaps it was inevitable with a plant given the scientific name of Theobroma (Greek for "food of the gods") cacao.
These days we may still consider chocolate to be a heavenly substance, but we consume far more of it, in vastly different ways, than the ancient Mesoamericans who first harvested and prepared it. And this, of course, has health consequences.
Is chocolate bad for you? Should you limit your consumption, or try to get it out of your diet altogether? Or is it actually a health food?
And what about reports of child labor, slavery, extreme poverty, and environmental degradation related to the chocolate trade? Is it possible to obtain "guilt-free" chocolate? If so, how can you tell which chocolate products contribute to the welfare of chocolate farmers and their communities?
A Brief History of Chocolate
The Theobroma cacao tree is native to Central and South America. The Azteks believed that the seeds were gifts from Quetzalcoatl, god of wisdom. For several centuries in premodern Latin America, cacao beans were considered valuable enough to be used as currency.  Both the Mayans and the Aztecs believed the cacao bean had magical properties, suitable for use in the most sacred rituals of birth, marriage, and death.
For much of its history, chocolate was served as a bitter drink, either heated or fermented into alcohol. When Columbus introduced cacao beans to European high society following his return from the Americas, it started a cacao craze that led to European colonization and enslavement of large areas of Mesoamerica and West Africa in the rush to grow and control cacao plantations.
The industrial revolution in 19th century Europe applied new methods to chocolate production. Alkalizing salts reduced bitterness. The "Dutch cocoa" process separated cocoa butter from the liquor and made it easier and cheaper to produce in large quantities. In the US, early 20th century inventors and entrepreneurs Milton Hershey and Franklin Mars turned chocolate from a local, artisanal product into a mass-produced industrial foodstuff. Hershey's milk chocolate in particular, combined with epic amounts of sugar, was sweet enough to convert an entire nation into chocoholics.
These days, Americans consume about $18 billion worth of chocolate each year, for an average of just under 10 pounds per person. And keep in mind that's just an average: some people abstain, so there are folks who eat way more than that!
There's no question that chocolate can be delicious – but what about its effects on your health?
You know how it is when you're feeling like crap? It's your body's way of saying, look, we need a re-boot! Listen to me and just clear your books. We need a rest! You know it and I know it when that happens. The question is: do we pay attention?
I did when this happened to me recently, and I wanted to tell you how I wrangled self-care while feeling lousy.
Transition Time
It's that time of year, September/October, when we're transitioning into fall. We're going from raw foods and the heat of summer to the precariousness of fall, that changes from warm or hot to rainy and cold in the blink of an eye. We're a little more vulnerable. This is the perfect time to really pay attention to what your body is asking for, and what it's rejecting! 
A one-woman show of my paintings opened at Commonweal in Bolinas, California (August 14 - October 31, 2019) on a Saturday in mid-August. It's called Daily Bread, from a quote I've always loved of Emerson's: "The sky is the daily bread of the eyes." As I wrote in the introduction to the show, 
"The sky is the daily bread of my imagination—always there, ever-changing, never static, vast, wondrous, soul-nourishing, full of mystery and awe."

"The sky is a visual way to think about life—and to keep perspective on our own experience. It's so much greater than the sum of its myriad parts, overarching everything, seductive with the constant movement of the atmosphere, enchanting as it keeps us engaged in the present moment."
Having my own show, at Commonweal, where I had cooked for the Cancer Help Program 20 years ago, was an astounding experience where, in the healing space of Commonweal, my paintings took on a magical life of their own.
I'd never seen these 13 new paintings together before, much less in the beautiful 1,500 square-foot gallery at Commonweal. I couldn't truly know how they would look and feel until I hung the show in the gallery the Monday before, and until the people were there to interact with them—people who are really special in my life, along with memories of people who have passed.
"I scream, you scream…" — you know how it goes. Ice cream is one of the most beloved foods in the world. The average American consumes more than 23 pounds of ice cream per year. And with the plant-based movement in full swing, more and more consumers are opting for non-dairy ice creams.
You may know that my family is intimately familiar with ice cream. My grandfather, Irv Robbins, co-founded Baskin-Robbins. At the time, most folks seemed content with vanilla, chocolate, and strawberry — the classics. But he thought there should be more flavors — 31, in fact! And he brought smiles to a lot of faces.
Unfortunately, in case anyone on the planet missed the memo, ice cream is not a health food. It turns out that despite its delicious flavor, eating a lot of ice cream doesn't do any favors for your long-term health.


Why Ice Cream Isn't Healthy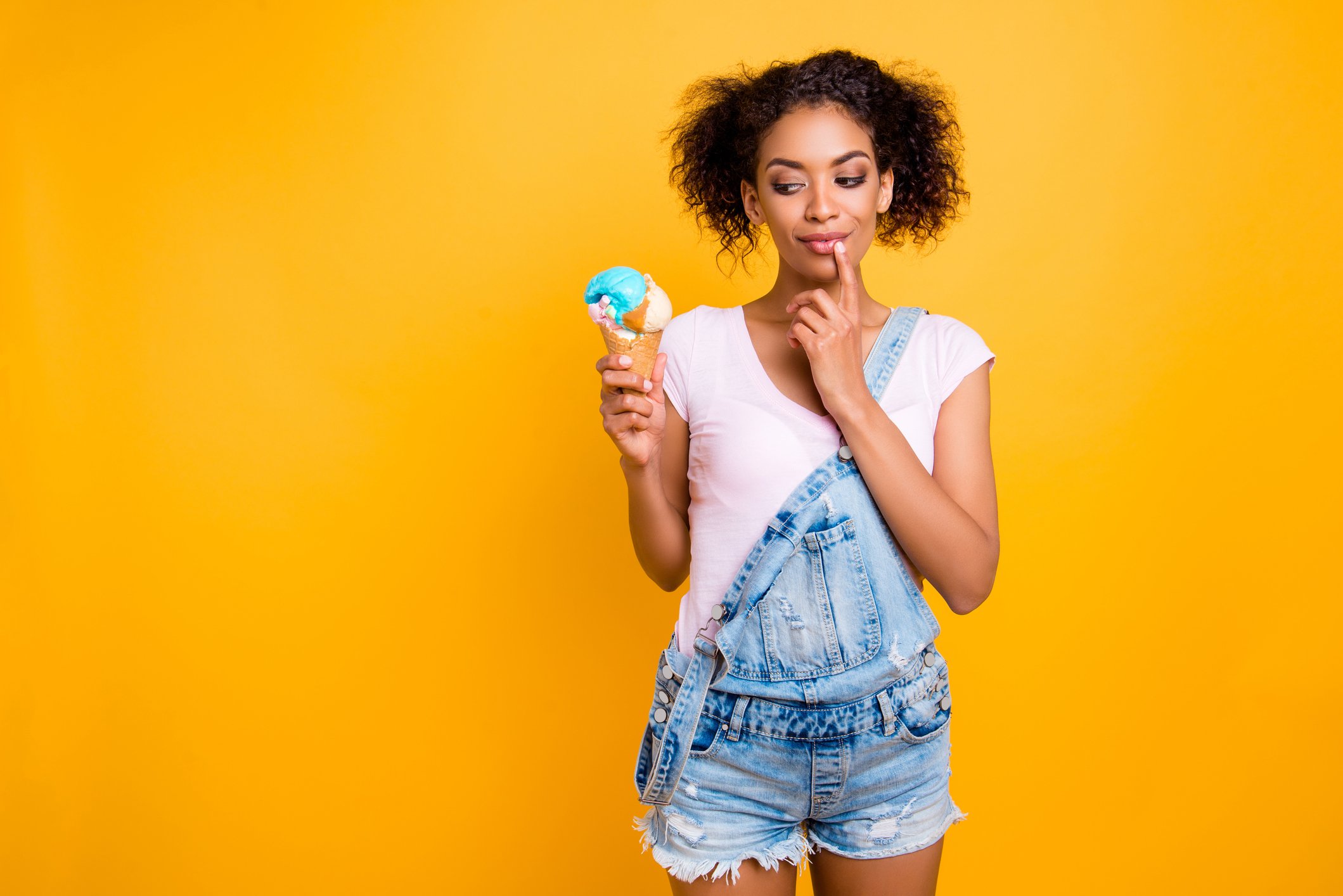 Have you ever experienced that rare moment when you've been around long enough to see signs of system-wide transformation occur before your very eyes? Dear reader, such has been the case with the role of food and medicine in the span of my professional career, during which I've devoted myself and my talents towards this very end—bringing science to the table, and food to the treatment plan.
The moment that filled my heart!
My foundation, Healing Kitchens, works with different hospitals and cancer centers to provide culinary content for their patients. We recently accepted an invitation to pay a call at Stanford Health Care. We've done some interesting work at Stanford in the past, including online, live and printed material for neuroendocrine cancer patients and for their survivorship program and website. We had modified my Cancer-Fighting Kitchen approach with specific protocols for neuroendocrine and carcinoid syndrome—two very specialized forms of cancer—and word got out. A colorectal surgeon at Stanford putting together a trial for pre-op prep for her patients suggested we meet and talk about the role food can play in patient preparedness and recovery.
The surgeon and her team were curious: what would happen if we have people shift their eating to an immune-boosting diet full of anti-inflammatory foods and also include exercise? Would it help people recover faster and with less chance of complications?
This was MUSIC to my ears! The notion of helping patients BEFORE they go into surgery with food!!!! We introduced her to my famous healing, nourishing Magic Mineral Broth. Oh my gosh, she said, is this a clear broth? I can give this to all my patients!!! Long story short, we're working on a package to go into this critical trial.
I'm fresh off the plane from Japan, where in addition to sampling the cuisine (see my field report below) we followed the peak of cherry blossom blooms from place to place by train. Peak bloom is only one week, and which week is not entirely predictable. We hit it!  And we were utterly and delightfully besotted. :)
Spring has been super rainy for us (it's been raining for almost a full week now!), with only a sprinkling of a few nice days, so cozy food cravings are still in full swing around here. I seriously can't wait until freezing cold smoothies, raw salads, and huge watermelon mono-meals regain their appeal, but I definitely don't mind living on this pot pie til then :) It's got almost all the comforting features of a traditional pot pie, but is made with bright spring produce and a blanket of thinly sliced vegetables instead of the more traditional pastry-based crust.



Leeks, asparagus, peas, and spinach all made it into this pot pie in celebration of spring. There's also quinoa for more substance and a stew-like texture, as well as carrots and zucchini. The crust is made up of thinly sliced potatoes (use new potatoes for the ultimate seasonal points) and zucchini. You could totally sub in your favorite pot pie pastry crust here if you're looking for something even more substantial, store-bought biscuits would work too.