We've all been there. We've got a big dream, a desire, or a goal.
We feel pretty sure it's meant to be.


We do all the right things: we take our inspired action steps, we pray, meditate, dance naked under the full moon.
We re excited. We anticipate. We tell ourselves to be patient.


We read a book or two or three. Take a workshop. Make the effort.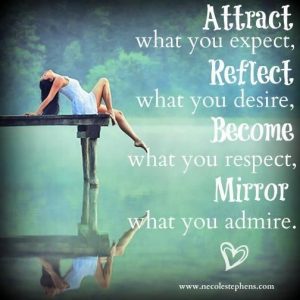 And nothing happens. Not one thing. Ugh!


When this happens to me, the first thing I do is immediately create something fun and pleasurable for myself. I give myself a big dose of love and yumminess.
"Fools stand on their island of opportunities and look toward another land. There is no other land; there is no other life but this."  — Henry David Thoreau


This week, I've been thinking a lot about the different speeches that have been on TV these last few days.


Yes, I watched the president speak from the Oval Office on Tuesday about the wall and our government shutdown. I also watched the Democratic leadership's rebuttal right afterward.


Neither of these speeches moved me. Instead, they just made me mad. They made me mad about where we are right now in our country. They made me mad that so many hard-working Americans aren't being paid and are struggling to get by. They made me mad that our country's leadership can't come together and find some path to common ground. They made me mad because, if you ask me, it feels as if the president and the Democratic leadership have put up a wall between themselves…
Are you lugging around a needless burden?

Is it heavy?
The Practice:
Drop the stone.
Why?
As we begin a new year for many people, it's natural to consider how to make it a good one. Besides taking action in the outer world—from fixing a dripping faucet to feeding every child—we can act inside our own minds... and take the benefits with us wherever we go. This year, what do you think are the top five things you can do inside yourself to be happier, stronger, wiser, and more loving?


In this JOT and those that follow, I'll suggest my own top five:
Drop the stone
Let it flow
Take in the good as you go
"Us" all "thems"
Open into awe

So, what do I mean by "drop the stone?"
I have longed for people I thought I would die without. And wanted books and music I was sure would bring me peace. And I've driven myself to accomplish things I thought would secure my worth. And though I seldom touched what I longed for or got what I wanted or achieved what I pushed for, the remnants of my longing burned like ancient wood on the fire of my soul, making the heart of my being burn brighter. To my surprise, I loved and worked and pushed till I used my self up. To my surprise, using my self up was the fate under all my aspirations. At the end of all we want, we're meant to glow. So long and want and dream till you exhaust your heart's desire. We learn so much from longing, and wanting, and dreaming. Mostly, that they are not the mansions we dream of living in, but the wood that keeps our fire going.
We're at the beginning of the year and if you're anything like me you've got your intentions all set and raring to go! But, sometimes the "new year new you" vibe can create too many expectations that can weigh heavily on you especially if you haven't put closure on last year!


Imagine that you stepped into the new year still dragging along a big bag of invisible stuff you don't actually want, nor is even vaguely good for you Yet here you are trying to jump up and down with glee about all things new however your jump up is so lame and everything feels so slow and heavy? It's like you've taken a detour in your mind and you find yourself all wrapped up about a future outcome that can't make lift off! This can leave you feeling like you are fending off negativity at every turn. Or maybe your mind has run willy-nilly to a past hurt as if it just happened? Or, perhaps you are wandering in the potentials that seem so far away from where you are now, that you get confused as to how anything could happen to move you forward? It's a big ol' New year Hairball!


In recent decades the concept of living in the present moment has been widely discussed, prompted by the surprising success of Eckhart Tolle's 1997 book, The Power of Now. For millions of readers Tolle's basic thesis, that there is something special about the here and now, came as a spiritual message they could seize upon in daily life.


The power that the present moment possesses, as many people now believe, is its reality. To be in the now means that you are not distracted by memories of the past or expectations about the future. You dwell instead on whatever is right in front of you, applying mental clarity, alertness, and your full attention. Simple enough—until one looks deeper. Young children live in the now. Are they better off for it, considering the years of maturation that lie ahead to bring about full-fledged adulthood? The elderly suffering from dementia typically have severe memory loss, forcing them to live only in the passing moment, and this condition becomes confusing and blank, not to mention a source of distress.
Learning to live outside the box is essential to living your authentic life. This is difficult because we often have perceptions of reality imposed by society. Our western model of success (a house, kids, picket fence, two cars, etc..), may not bring the fulfillment and happiness you're looking for. Our high-tech, low-touch society doesn't promote your unique brilliance. But there is something greater and unique within you, waiting to get out of the box.


Have you ever been told that you weren't good enough? Have you ever felt that your ideas were unimportant? This happens all the time. Belief in judgement and unrealistic expectations limit your potential. Your belief of these lies needs to be transformed into realization of your full potential. Your beautiful, unique expression lives outside the box.


Ill will creates negative qualities whereas good will creates positive qualities


Do people ever make you mad?
The Practice:
Acquire goodwill.
Why?


As the most social and loving species on the planet, we have the wonderful ability and inclination to connect with others, be empathic, cooperate, care, and love. On the other hand, we also have the capacity and inclination to be fearfully aggressive toward any individual or group we regard as "them." (In my book - Buddha's Brain: The Practical Neuroscience of Happiness, Love and Wisdom - I develop this idea further, including how to stimulate and strengthen the neural circuits of self-control, empathy, and compassion.)
Questions you might ask yourself as you contemplate 2019:

1) Should I stop using Facebook, given all the controversy around the sharing of information with other companies and possible collaboration with the Russians?
2)Should I stop shopping at Amazon because its founder makes so much money, appears to exploit his employees, and pits cities against each other for lower tax rates and fewer employment benefits?

3)Should I stop drinking water in plastic bottles because of the horrendous damage the petroleum and plastics industries are causing?

Those questions and others like them remind me of one asked of the Dalai Lama by a member a group I led to India a number of years ago when we met in the Dalai Lama's home in Dharamshala. The questioner referenced a call for everyone around the globe to pray for peace on a certain day.


Successfully manifesting your desires is a combination of several factors.
First, you need clarity on what exactly you are asking for.
Second, you need to take time each day to move out of your head and into your heart to feel what it will feel like to have that desire right now, in this moment. I call this a feelingization.
And finally, you need to implement the "secret sauce."
Research shows that making goals is useful. People who set goals are 10 times more likely to attain their goals than people who don't!
With the New Year comes a time to reflect on the goals you achieved in the previous twelve months – as well how to overcome failure of not achieving some goals in 2018 – because your failures are just as important for your growth as your successes are.


Failures teach you extremely valuable lessons you need to learn in order to be better able to create the life you want in the future.


But you have to be willing to acknowledge your failures and then analyze them in order to extract new awarenesses and wisdom from them.


Here are 5 tips to overcome failure and achieve your missed 2018 goals in 2019.
"For last year's words belong to last year's language. And next year's words await another voice." — T.S. Eliot
Another year is upon us. Isn't it amazing?


It feels like just yesterday that I was embarking on 2018 and preparing to launch I've Been Thinking… into the world. At the time, I had no idea how the book would be received or whether people would enjoy reading it. I have to admit I was even a little scared. But today, I am able to look back on this past year in awe and with deep, deep gratitude.


I loved being on the road this past year meeting so many of you at book events. I also enjoyed meeting you at our Move for Minds events benefiting The Women's Alzheimer's Movement, through my work at NBC News, and through my work with my daughter Christina talking about our Netflix film "Take Your Pills." Being on the road throughout 2018 was inspiring and invigorating. Why? Becaus eit gave me a chance to meet so many of you, our Sunday Paper readers.
Throughout your life, every choice and decision you made has brought you to this very point at this precise moment in time. I do believe that some events in one's life can be attributed to fate, whereas others are just meant to happen. But, you have free will and it's your choice at that moment to determine what you do, the direction you take, and how to respond to the outcome of that decision.
Your Soul Journey
As a soul, you're an accumulation of all your experiences that are happening now, as well as those that happened in the past. It's the choices that you make as a result of those experiences, that determines the choices you make for the rest of your life.


There are many different roads that you may decide to take on your soul's journey. When your soul incarnates here in the physical world, its predestined journey will take you from point A to point B. It's your choice and your free will as to which route you take and how fast you want to get there. You may take the fast route, direct from A to B, or you may meander through different side roads, experiencing all that life has to offer, as you take your time in getting to your soul's ultimate destination. It's totally your choice!


Sometimes, it's good to let go of the river's edge and let the flow of life take you to where you're supposed to be. It can be quite liberating when you do let go. Suddenly, exciting opportunities and choices appear, but surprisingly, you still feel safe even though you've let go of the outcome. Of course, there are other times when it makes more sense to grab a pair of oars and steer yourself in a certain direction.
The ideas I embrace about who I am, and what I believe myself to be, mold a paradigm, a way of thinking that determines what is and is not possible for me as I create and live my daily life.


When I woke up for life today, I found myself asking the question, who did I really believe myself to be? Maybe this was because it was my birthday, and I was curious to know who I had grow up to be in these past thirty three years of life. Upon further reflection I observed is that, since the day of my birth, I had been told by others who I was. Therefore, since the day of my birth I realized that others have determined what is and is not possible for me and my life. But on this birthday morning, awakening into a newfound sense of self-awareness, I began crafting a story of possibility, one that would shatter inherited paradigms and forever change what I believed possible.
What's your deepest nature?
The Practice:
Having a Sense of Home.
Why?
Throughout history, people have wondered about human nature. Deep down, are we basically good or bad?


Recently, science is beginning to offer a persuasive answer. When the body is not disturbed by hunger, thirst, pain, or illness, and when the mind is not disturbed by threat, frustration, or rejection, then most people settle into their resting state, a sustainable equilibrium in which the body refuels and repairs itself and the mind feels peaceful, happy, and loving. I call this our Responsive mode of living. It is our home base, which is wonderful news. We are still engaged with the world, still participating with pleasure and passion, but on the basis of a background sense of safety, sufficiency, and connection.


The Winter Solstice is a time of unmistakably large new beginnings. By the time of the Winter Solstice, everything that began growing at the Summer Solstice has contracted into one seed of potential, and that seed begins to expand. Add to this the Christmas story, and Hanukah, the Season of Light, and the point is unmistakable. New beginnings happen, and they are wonderful when they do.


These three events happen annually, but the energy of them happens continually in the lives of countless people at countless times. It happens when a depression breaks for a moment, when grief lightens, anger subsides, jealousy eases, and life without pain seems a possibility again. Darkness begins a long or sudden disappearance, and a ray of light becomes visible.


As you set your new year goals for 2019, it's a good idea to take stock of the progress you've made toward your goals this year. For many people, this review is unpleasant and can even lead to a downward spiral.


If you didn't achieve all of the goals you set at the beginning of the year, you may feel like you have failed. Our self-esteem can take a hit, we can become disheartened and discouraged, and our motivation drops. Some people actually become depressed.


If this sounds familiar, it's time to reframe how you look at success. Zeroing in on accomplishments that didn't happen puts your focus on what you lack, rather than on what you have (the things you did experience and accomplish). This subtle mental trap leads to a host of negative consequences, which usually leads to attracting more lack.
Over the years, I talked so much that, like a car speeding down a dirt road, I couldn't see anything but what I stirred up with all my talk.Thankfully, loss broke my axle and forced me to stop. When the dust settled, I could see.Then love picked me up and took me to the nearest town, where I started a school for seekers who talk too much.In time, we taught each other to listen like dragonflies who touch the water without making a ripple.Now, to listen is to breathe with my heart. Now, I have so little to say that strangers think I'm a nobody, just when I'm finally becoming everybody. A Question to Walk With: Describe the difference between who you were ten years ago and who you are today.
This excerpt is from a new book in progress, Returning to Where I've Never Been.
Sometimes when things don't work out the way you planned, it's a blessing in disguise, even if it doesn't seem that way at first.


We often have an idea of what we want and what we think will be best for us. We often want what we want when we want it.


It can be frustrating when things don't go according to plan or you aren't where you want to be in life. Especially when you try everything in your power to make it happen.


Your mind may want certain things in life, but sometimes your soul actually longs for something different, deeper and more aligned.


Just because you want a certain outcome doesn't mean it's actually the best thing for your soul's growth and evolution. Your soul has an intelligence beyond the mind.


You incarnated into this human experience in order to learn lessons, to grow and evolve. There may be experiences that you need to go through in order to grow, so that you can become the highest version of yourself.


You may not be able to see it in the very moment, but if you are willing to trust, life will show you the reason why things didn't work out the way you wanted them to.
In late November, I had an odd sensation in the night of not being able to breathe properly or easily, especially when lying flat. Upon going to urgent care, I was told that I had a small amount of fluid on my left lung. This led a three month fall into a dark hole of worry, as the common causes of fluid on the lung are serious: congestive heart failure, a pulmonary embolism, or the appearance of lymphoma, just to name a few. My doctor sent me to the emergency room which ruled out these serious conditions. Though I kept getting better, no one could find a cause. It took five weeks before I could sleep lying flat again.


In early March, I went to a pulmonary specialist to follow up. He was very kind and a thorough listener. After many questions, he brought me beside him to look at all my medical films through the years. Then, he quietly said, "I don't think you ever had fluid on your lung. The abnormal shape of your left lung is the result of scar tissue from your rib surgery thirty years ago." His best guess was that I contracted something viral that had passed its course.