All of us, to one extent or another, make life plans. We all have a vision of where we want to be and how we want to live. For most of us, envisioning the life we want is the easy part. Making that life a reality is a different story.


Every goal involves a journey from Point A to Point B, and every journey consists of a series of steps that gets us there in the most direct way possible. So, when it comes to a really big goal, like living your best life, you have to be absolutely clear about the specific steps that you're going to take.


You can't afford to be hazy about the details or less than dedicated to forward momentum. If you don't know what to do, or you don't want to do what you need to do, your dream of a better life remains just that.
Are You Growing?
The Practice:
Learn As You Go
Why?
I was recently asked about my top five inner practices for 2019, and here they are:
Learn as you go
"Us" all "thems"
Open into awe

You can click the links above to see the first two. By "learn as you go," I mean that each day is an opportunity to take in the good: to help useful or enjoyable experiences sink in and become a part of you. Then when you go to sleep, you'll be a little stronger, a little more resilient, a little wiser, a little more loving, a little happier than you were when you woke up in the morning.


"Courage is what it takes to stand up and speak; Courage is also what it takes to sit down and listen."  — Winston Churchill
Back in 2012, I gave a commencement speech called "The Power of the Pause" in which I spoke about the value of pausing before one reacts, comments or speaks out. At the time, I thought things were bad and that we could all really use the reminder. Well, back then doesn't have anything on today.


Today, it feels as though people react, comment and post within seconds of seeing a story or a tweet or a video. We feel pressure to respond immediately and fret that if we don't post or add our voice to the fray immediately, then people will rail at us for staying silent or being complicit in the problem.


All I've got to say is, "Whoa, whoa, whoa."


If you watch my weekly oracle card readings lately you'll notice I'm working with my new Goddess Power Oracle (loving the awesome feedback!) and this week the one goddess that stood out for me to talk about is the goddess Rhea and what her meaning offers all of us.


Now, whether you are "into" goddesses or not, just imagine these goddesses are really metaphors for the lessons they offer. In this case, because Rhea's name means " low and ease" although, in her myth, she experienced many hardships as a primordial goddess who gave birth to a big part of the Greek Pantheon. What her story shows us is how no matter what happened, she was able to flow around obstacles in a very resourceful way with positive results.


"It is impossible to live without failing at something unless you live so cautiously that you might as well have not lived at all." – J.K. Rowling."

Did you know that 90 % of all New Year's resolutions never get fulfilled? So if you're ever found yourself on December 31st, wondering what happened to all of the big goals you set for yourself back on the previous New Year's Eve, and why you're not 
taking action on your goals
, you're certainly not alone.

So let's look at what separates the 10 percent who DO achieve their goals from the vast majority who don't?


The answer has everything to do with ACTION.


The people who achieve great success in life are the ones who are willing to take consistent action toward realizing their dreams.


They're the ones who jump out of their seat to get the ball rolling — on the new project at work, the new skill they want to learn, or the promotion they want to get.
When we can open our hearts and work with what we're given, loving what's before us, life stays possible. Then, through effort and grace, we do what we can with what we have. And when exhausted by all that's in the way, we're faced with the chance to accept and love what's left, which is everything. This is how we discover that Heaven is on Earth.
A Question to Walk With: Describe a time when you experienced a moment of Heaven on Earth. What led you there? What have you carried from that moment with you?
Claim your own life. Your soul knows what it wants from this lifetime. So does your heart. Your life plan is imprinted in every cell of your physical form. If you pause quietly for a moment or two, you can hear your inner wisdom speaking. It will guide you steadfastly to the destiny that awaits you.


Don't think about it; just listen. Be silent and receive the download of God's plan for you. You were born with it; it's in your genes. You breathe it in and out every moment of your day. The key is to stop distracting yourself with the cacophony of other voices all around you, and pay attention to your own voice within. No one else knows you as well as you. When you align with the inner truth of your being, that truth lives through you into the world. You begin to sparkle and shine with authenticity.


Then you no longer need try to copy someone else's lifestyle or follow the 10 quick steps to success in all those self-help books and articles. Success, in truth, is just being you. That's why you're here and why there is no one else exactly like you on Earth. Your soul knows this. You have a sacred responsibility to be your own true self, not a half-hearted imitation of someone else's idea of what it means to be human.


Years ago while driving my daughter through icy streets, she shared something interesting. She felt time standing still. Sometimes she watched for the pause while I drove. Chloe would pick an area in front of the car and then close her eyes. When she reopened her eyes, everything outside and inside the car was exactly the same. Logically she should have seen a different part of the road. I'm sure there is an easy explanation. I choose to think the reason is part cosmic and part scientific. 
 
I inquired if she still saw colors around people. Her response was, "Yes, when I think about it". I understand this. All it takes to connect to an expanded world, is to think about, and feel the expansion. When she was much younger she was afraid there was something wrong with her eyes. She saw colors that other people did not. Eventually she shared with me the colors of her world.

She is not alone; many children experience the ability to easily live in an expanded, or more supple world. They may see images or hear sounds that others can't. Gradually some children loose this ease of connection. Our adult understanding of the world shadows over their sweet version of life.
Can you stay mindful and peaceful when your thoughts and life get bumpy?
Are you stuck?

The Practice: Let It Flow
Why?


I think there are five key things we can do inside ourselves to be happier, stronger, wiser, and more loving this year:


Drop the stone
Let it flow
Take in the good as you go
"Us" all "thems"
Open into awe
Now is the perfect time to get clear on everything you would like to accomplish in the months ahead.


What big goals would you like to achieve this year? On December 31st, 2019, what do you want to be celebrating?


What do you want to be able to look back on and say, "I can't believe I did that?"


And how will you feel, knowing that you accomplished that thing?


In order to make that vision a reality, you need to know what your goals are – and you need to be able to clearly visualize each of those goals as already achieved and what your life will look like once you have achieved them.


Here are four tips that will help you do just that – so you can stay focused and motivated throughout the year as you work on making your dreams a reality.
During the last week of 2018, I traveled from sunny, warm Los Angeles, California to wintery Owego, New York. As the doors of the airport slid open, a blast of frigid air hit me square in the face.  My eyes immediately begin to water uncontrollably. 


I loved it.
 
Everything around me was frozen, gray and bare. The sky was gray, the ground was gray, the trees were gray.


I grabbed a coffee in town and fell into an easy conversation with an Owego resident. She is a born and raised Owego boomerang who has lived there for over thirty years. She shared with me how this winter has been one of the toughest for her in a long time because the sun hadn't come out in over three months. I told her I lived in Los Angeles, where the sun shined practically year round. She paused, contemplating her response and then replied, "Yeah, I think I'll take this rough patch we're having here instead."
We've all been there. We've got a big dream, a desire, or a goal.
We feel pretty sure it's meant to be.


We do all the right things: we take our inspired action steps, we pray, meditate, dance naked under the full moon.
We re excited. We anticipate. We tell ourselves to be patient.


We read a book or two or three. Take a workshop. Make the effort.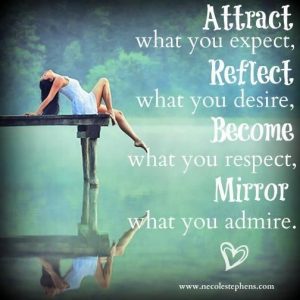 And nothing happens. Not one thing. Ugh!


When this happens to me, the first thing I do is immediately create something fun and pleasurable for myself. I give myself a big dose of love and yumminess.
"Fools stand on their island of opportunities and look toward another land. There is no other land; there is no other life but this."  — Henry David Thoreau


This week, I've been thinking a lot about the different speeches that have been on TV these last few days.


Yes, I watched the president speak from the Oval Office on Tuesday about the wall and our government shutdown. I also watched the Democratic leadership's rebuttal right afterward.


Neither of these speeches moved me. Instead, they just made me mad. They made me mad about where we are right now in our country. They made me mad that so many hard-working Americans aren't being paid and are struggling to get by. They made me mad that our country's leadership can't come together and find some path to common ground. They made me mad because, if you ask me, it feels as if the president and the Democratic leadership have put up a wall between themselves…
Are you lugging around a needless burden?

Is it heavy?
The Practice:
Drop the stone.
Why?
As we begin a new year for many people, it's natural to consider how to make it a good one. Besides taking action in the outer world—from fixing a dripping faucet to feeding every child—we can act inside our own minds... and take the benefits with us wherever we go. This year, what do you think are the top five things you can do inside yourself to be happier, stronger, wiser, and more loving?


In this JOT and those that follow, I'll suggest my own top five:
Drop the stone
Let it flow
Take in the good as you go
"Us" all "thems"
Open into awe

So, what do I mean by "drop the stone?"
I have longed for people I thought I would die without. And wanted books and music I was sure would bring me peace. And I've driven myself to accomplish things I thought would secure my worth. And though I seldom touched what I longed for or got what I wanted or achieved what I pushed for, the remnants of my longing burned like ancient wood on the fire of my soul, making the heart of my being burn brighter. To my surprise, I loved and worked and pushed till I used my self up. To my surprise, using my self up was the fate under all my aspirations. At the end of all we want, we're meant to glow. So long and want and dream till you exhaust your heart's desire. We learn so much from longing, and wanting, and dreaming. Mostly, that they are not the mansions we dream of living in, but the wood that keeps our fire going.
We're at the beginning of the year and if you're anything like me you've got your intentions all set and raring to go! But, sometimes the "new year new you" vibe can create too many expectations that can weigh heavily on you especially if you haven't put closure on last year!


Imagine that you stepped into the new year still dragging along a big bag of invisible stuff you don't actually want, nor is even vaguely good for you Yet here you are trying to jump up and down with glee about all things new however your jump up is so lame and everything feels so slow and heavy? It's like you've taken a detour in your mind and you find yourself all wrapped up about a future outcome that can't make lift off! This can leave you feeling like you are fending off negativity at every turn. Or maybe your mind has run willy-nilly to a past hurt as if it just happened? Or, perhaps you are wandering in the potentials that seem so far away from where you are now, that you get confused as to how anything could happen to move you forward? It's a big ol' New year Hairball!


In recent decades the concept of living in the present moment has been widely discussed, prompted by the surprising success of Eckhart Tolle's 1997 book, The Power of Now. For millions of readers Tolle's basic thesis, that there is something special about the here and now, came as a spiritual message they could seize upon in daily life.


The power that the present moment possesses, as many people now believe, is its reality. To be in the now means that you are not distracted by memories of the past or expectations about the future. You dwell instead on whatever is right in front of you, applying mental clarity, alertness, and your full attention. Simple enough—until one looks deeper. Young children live in the now. Are they better off for it, considering the years of maturation that lie ahead to bring about full-fledged adulthood? The elderly suffering from dementia typically have severe memory loss, forcing them to live only in the passing moment, and this condition becomes confusing and blank, not to mention a source of distress.
Learning to live outside the box is essential to living your authentic life. This is difficult because we often have perceptions of reality imposed by society. Our western model of success (a house, kids, picket fence, two cars, etc..), may not bring the fulfillment and happiness you're looking for. Our high-tech, low-touch society doesn't promote your unique brilliance. But there is something greater and unique within you, waiting to get out of the box.


Have you ever been told that you weren't good enough? Have you ever felt that your ideas were unimportant? This happens all the time. Belief in judgement and unrealistic expectations limit your potential. Your belief of these lies needs to be transformed into realization of your full potential. Your beautiful, unique expression lives outside the box.


Ill will creates negative qualities whereas good will creates positive qualities


Do people ever make you mad?
The Practice:
Acquire goodwill.
Why?


As the most social and loving species on the planet, we have the wonderful ability and inclination to connect with others, be empathic, cooperate, care, and love. On the other hand, we also have the capacity and inclination to be fearfully aggressive toward any individual or group we regard as "them." (In my book - Buddha's Brain: The Practical Neuroscience of Happiness, Love and Wisdom - I develop this idea further, including how to stimulate and strengthen the neural circuits of self-control, empathy, and compassion.)
Questions you might ask yourself as you contemplate 2019:

1) Should I stop using Facebook, given all the controversy around the sharing of information with other companies and possible collaboration with the Russians?
2)Should I stop shopping at Amazon because its founder makes so much money, appears to exploit his employees, and pits cities against each other for lower tax rates and fewer employment benefits?

3)Should I stop drinking water in plastic bottles because of the horrendous damage the petroleum and plastics industries are causing?

Those questions and others like them remind me of one asked of the Dalai Lama by a member a group I led to India a number of years ago when we met in the Dalai Lama's home in Dharamshala. The questioner referenced a call for everyone around the globe to pray for peace on a certain day.


Join Soulspring for conscious insights...
...on all things life, wellness, love, transformation and spirituality...
 PLUS! Get your FREE Guide: 12 Mindfulness Practices to a Peaceful Mind