Have you ever wondered why we humans seek a soulmate?
What is it about us that craves this deep connection to another?
Where does our yearning come from?
Are we genetically designed to be mated?
One fascinating and possible answer comes from Aristophanes, the acclaimed playwright and philosopher of ancient Athens.
He offers a wild tale that he shared at Plato's Symposium about how the deep desire for Oneness came about.
Long, long ago in primal times people had doubled bodies: four arms, four legs, two heads and they were big and round….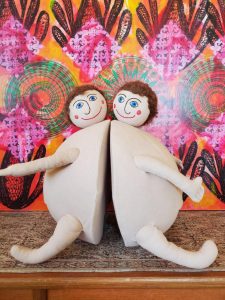 These roly-poly creatures wheeled around earth like clowns doing cartwheels & were very powerful.
There were three sexes: the all-male, the all-female, and those who were half male, half female.