More than thirty years ago I had the extraordinary good fortune to meet Herb Tanzer and Elizabeth Goodman.
I was attending the Landmark Forum and Herb was our awesome, amazing and brilliant leader.
Throughout the weekend workshop he often gushed about how much he loved his beautiful wife, Elizabeth.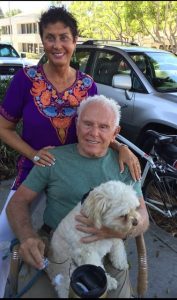 Herb & Elizabeth were really my first introduction into what a true soulmate relationship looks like.
Together they were adoring, devoted, playful, funny and clearly meant to be together.
After 38 years of loving each other, Herb passed a year ago from cancer.
Of course, Elizabeth was devastated to lose her best friend, life partner and soulmate.
Toward the end of his life, they had several deep conversations in which Herb shared with Elizabeth that she needed to "pay attention." He wanted her to be open to finding someone to take care of her after he was gone.
Elizabeth always insisted she could take care of herself. Herb repeatedly told her to "pay attention."
One of Herb's closest friends was another Forum leader named Garry.
He was a recent widower. His wife of 55 years, Donna, had passed less than a year before Herb. The four of them had been friends for 35 years and had vacationed together.