A young woman named Melinda came to see me for a reading. As she sat quietly across the room from me, there was a full line-up of relatives from the Other-Side stepping forward one by one.
In the background, I was acutely aware of a faint tapping that I was psychically hearing. It wasn't the familiar tempo of a waltz or even a song that I'd recognize; yet, there it was again—a definite rhythm. It sounded more like: Clackity-clack, clackity-clack, clackity-clack.
Oh my God, heaven was actually tap dancing! I thought to myself. At that moment, a little girl stepped forward and gave me her name. I didn't hesitate a moment longer, "Melinda, I have a little girl here and she is giving me the name of Jen or Jennifer. Do you understand that?"
"That's my daughter!" Melinda's eyes instantly filled with tears. Jennifer was her five-year-old daughter who'd tragically died after a kidney operation. Melinda recalled that day when the hospital staff had begged her and the rest of the family to "go home, relax, and get something to eat"—just for an hour— because nothing would happen­. Yet, something awful did happen.
Three years had passed since her death, and Melinda had come to see me with one burning question. She needed to know if her baby was safe in heaven. I wanted so terribly to give her some answers, but at first I felt frustrated, as I couldn't see or feel Jennifer. Instead, I just kept hearing the same noise, over and over: Clackity-clack, clackity-clack, clackity-clack. I couldn't ignore the sound any longer.
"Melinda, did Jennifer take tap-dancing lessons?"
Melinda started weeping again. "No, but I understand the sound," she whispered.
"The Christmas before Jennifer died, she received a pair of clogs that had metal heels on them, which tapped when she walked. "The shoes were really too big for Jennifer's little feet," she went on. "She loved those shoes and insisted on wearing them, even though they almost fell off with a clacking thud every time she walked."
This was one of those readings when I struggled to hold back my own tears. Melinda told me that Jennifer had been buried in those shoes.
I could feel the link fading away, but Jennifer had a message for her mother, "Please tell Mommy that it doesn't hurt anymore. And I love the balloons."
Melinda was almost speechless. "On the anniversary of Jennifer's death, and on her birthday each year, we stuff balloons with a message for her and release them into the sky. We put her name and her photo on each and every balloon!"

JOHN'S MESSAGE                                                                                                     


This story doesn't end yet. When a parent comes to see me due to the loss of a child, I find that it can often be a very emotional experience between the parent, the child in Spirit and myself. After the reading later that day, I went to the beach to clear my head and recharge my soul. It was quite late and the sun was setting and I was the only one out there on the beach. I sat down in the sand to watch a brilliant sunset. As I stared off into the horizon, I couldn't help but notice something bobbing just off the shoreline. As I walked closer, I couldn't believe my eyes. There was a single red balloon.
A personal thank-you had been sent by special delivery ... compliments of Jennifer. I sat there on the beach for a little while longer, holding the red balloon in contemplation.
Readings like this only convince me more and more that I'm in the right profession as a Spirit Whisperer.
If you have a special story that you'd like to share, you can always write in the Comments section on my Facebook page or, you can always phone into my Spirit Connections radio show.
Live a Soul-filled life!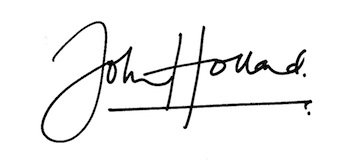 Learn to Communicate with your Loved Ones on the Other-Side
"Your soul is constantly sending you messages of healing and guidance in the form of signs and symbols. 
Once you learn to recognize these messages, and act on them ... a whole new world will open up for you!" 
JOHN HOLLAND - Spiritual Teacher & Psychic Medium 
Bridging Two Realms: Learn to Communicate with Your Loved Ones on the Other-Side