Whew, what a week. There is so much going on in the world that it often feels hard to keep up and stay optimistic. But staying optimistic and positive is critical, so I'm not going to share what has upset me, but rather what has inspired me from this past week.
To that end, I'm not going to focus on the president-elect's war with the news media. Nor am I going to dwell on efforts to destabilize our confidence in the institutions that keep us safe and sound. I do want to sound a five-star alarm about the Senate and House taking steps to repeal the Affordable Care Act, but I'm going to try and stay hopeful. If they want to do what's right, then they will commit to protecting the millions of Americans who rely on that coverage. For as California Gov. Jerry Brown said, "Repealing the Affordable Care Act with no real replacement won't just leave millions without care; it will destabilize the commercial market for small business owners and individuals."
But as I said, I want to stay hopeful. On this day — at this moment — I want to focus on what has moved me, not on what has given me pause. I want to focus on President Barack Obama's stirring farewell address. His words. His tone! His tone! His tone! His eloquence. His manners. The way he honored his wife, his daughters and the man who served day in and day out by his side. I mean, I just love Joe Biden. Always have and always will. And how awesome that he was honored on Thursday with the Presidential Medal of Freedom.
All of this made me proud to be an American. The president's speech also challenged me to think about what more I can do to become the citizen my parents raised me to be. To become the citizen that my president asked me to be and that I ask myself to be on a daily basis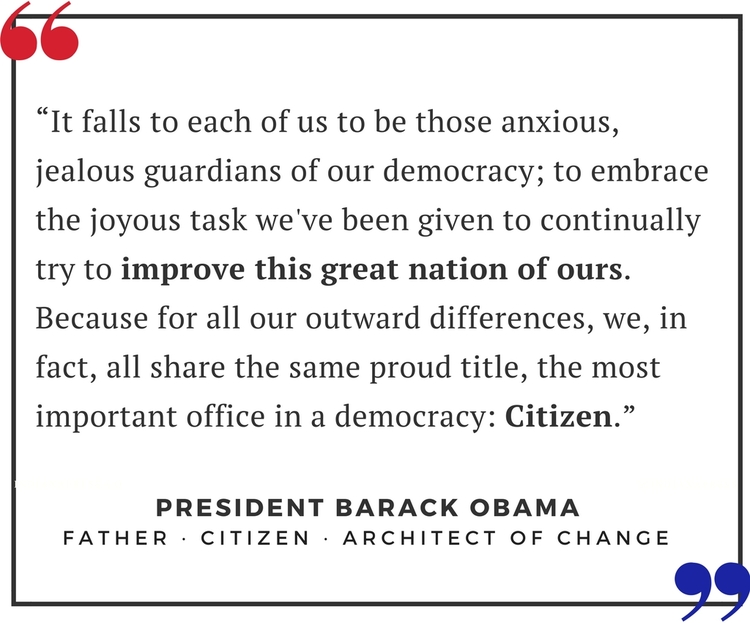 It is the question that Martin Luther King Jr. also asked of himself and it's the question that is being asked of all of us tomorrow on our national day of service.
What are we doing as citizens to make our country more conscious, more caring and more compassionate? What are we doing for others?
At this moment, on the eve of the Martin Luther King Jr. Day holiday, may we honor those who have served on what I call the "Front Lines of Humanity." May we thank those who have served in public office, who are now leaving to become citizens like you and I.
On this holiday, in honor of a man who shared his dream with all of us, may we each ask more of ourselves. May we each ask what more we can do to be a part of calming fears, caring for our fellow human beings, and confidently moving humanity forward.
We each get to choose on this day whether to get caught up in the impending reality show that is unfolding in front of our eyes, or to get busy helping our fellow citizens with their real-life problems, challenges and struggles.


The truth is that we all need people to help us at different times in our lives. I love how Vice President Biden acknowledged Obama in his thank you speech after receiving the Presidential Medal of Freedom. In fact, Biden acknowledged all of the people he has leaned on along the way.
The vice president's speech made me stop to think about who I lean on. There have been, and there are, so many people. At different times in our lives, we all lean on someone or something. And it's good to remember that so many millions of Americans lean on services and non-profits for basic necessities to help them along each day.
At the end of the day, we all lean on one another — Democrats, Republicans, and Independents. Leaning on one other is what will make us a more conscious, caring and compassionate society.
So, let's get busy serving up care. Let's get busy serving up compassion. Let's get busy serving up empathy, kindness and inclusion. For those who have made this holiday possible, like Rep. John Lewis, thank you for your extraordinary service t0ward moving humanity forward.
Finally, if you find yourself anxious on this day, this weekend or at this moment in time, I encourage you to reflect upon this quote from Mahatma Gandhi: "The best way to find yourself is to lose yourself in the service of others."