Yesterday was our 23rd wedding anniversary. As I thought about the wonder of it all, I asked my beloved soulmate, Brian, what his thoughts are on how we have created 23 years of togetherness and what he thought our "secret of success" is.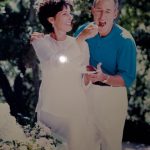 Here is what he said:
"Our sacred union was ignited in an instant when I literally found myself immersed in a grand conspiracy of love with the Woman/Goddess of my dreams 23 years ago.
The day we met the magic began and the Universe/God supported our journey of love on every level. It was a ginormous love explosion where both our tides of love rose together into one ocean of love and where love began to dance with itself!
We celebrate our miracle of love every day as we live grounded in Higher Love with the necessary ingredients of respect, honor, joy, unlimited fun, attentiveness, acceptance, admiration and care of the other's well-being."