As a tribute to all mothers, whether they are here or watching over us from the Other-Side, I'd like to share a special story for Mother's Day, just over a week ago!
A few years ago, I was in Seattle, Washington for an event and took a stroll along the city's famous landmark, Pike Place Market. As I passed by a floral shop, a certain bouquet of sunflowers drew my attention. I couldn't take my eyes off them. I knew I wasn't about to purchase them just to take home on the plane the next day! Still, I felt this overwhelming urge to buy them. It was a clear signal.
Over the years, I've learned it's best to just go with my gut at times like these. Of course, I purchased the sunflowers right away. At the conference center, I asked the organizer to have them put on the stage with me.
When I walked onto the stage, I launched into my introductory lecture and explanation of how I work. All the while, I was aware of the mass of yellow sunflowers on the table beside me. I had barely finished my lecture when I felt the presence of those on the Other-Side draw close. Today, they were lining up as though waiting for a Black Friday sale! It was going to be a busy afternoon.
As I felt the afternoon drawing to a close, I looked over at the sunflowers one more time. I could feel whoever urged me to buy the flowers finally making his presence known. I could feel the excited energy of a young boy. He desperately wanted to talk to his mom. She'd been grieving for a long time because his death had been so sudden, she'd never been able to say good-bye.
As the boy was linking with me, he made sure to give me enough evidence to single his mom out of an audience of over 1,000 people. He related clear information about his passing, including where and when it happened. He let me know what his mom was doing now and shared that she wasn't really sure about her belief in an afterlife. Finally, I heard as clear as day, in his very gentle and loving voice, "Please give her the sunflowers now."
"Mom, your son wanted to make sure that you knew it was really him and that he is okay. That there is an afterlife, and you will see him again." I told her. From where the woman was sitting, she couldn't see the flowers on the table behind me. I turned around, picked them up, then walked over and placed the bouquet in her arms. "Your son wanted to give you these sunflowers! Apparently, they mean something to both of you."
The woman took the flowers with a big smile and tears of joy. She told the audience that sunflowers were her favorite flower. Her son would always give them to her on special occasions when he wanted to say, "I love you, mom!" It was never roses or daisies or any other flower — always sunflowers!
They would also joke that sunflowers were really "son-flowers." She added that she still brings sunflowers to her son's grave.
I ended the demonstration by giving her a hug and telling her, "He loves you, and it was his turn one more time to bring you son-flowers!"

JOHN'S LESSON


Neither distance nor time, nor even death can ever separate you from your beloved mothers and children and loved ones who have passed on — for love is truly everlasting.
If you have a similiar story you'd like to share, feel free to post them in the comments section on my Facebook page. Or better yet, phone into my Spirit Connections radio show.
Live a Soul-filled life!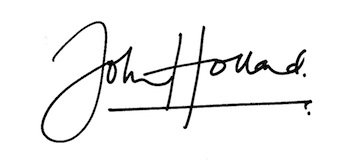 Bridging Two Realms: Learn to Communicate with Your Loved Ones on the Other-Side