Growing up half Italian and eating my mom's cooking, I'm always up for a good pizza. One night, I met some friends, and we found the perfect spot for the "best pizza in town." I think we all drooled with expectation as our lovely waitress came to take our order.
As she came back with a full tray of drinks, she looked directly at me. "Oh my God! It's you! I have to tell you what happened when you gave me a message. Would you mind if I talk to you when you're finished eating?" After my friends and I said our goodbyes, I headed to the kitchen to find my rather nervous waitress Sandy. "Some years ago, I was at the bookstore and heard you were going to speak that evening," she explained. "I was lucky enough to get one of the few remaining tickets."
"You pointed straight at me and said, 'This is for the young woman in the back row. I have your father here and he's asking for forgiveness from you. Do you understand that?'"
"I was so shocked. You described my dad's personality, what he did for work and how he never stopped loving me. Validation upon validation came flying out of you. I hardly had time to take it all in."
Then Sandy said I ended with a final message. "I didn't understand it then, but you said, 'Your dad wants me to tell you he just met up with Charlie.'" Sandy understood everything except for that last comment. "I was thankful for the opportunity you'd given me to hear from my dad, but I couldn't let go of the last message about Charlie. I went through all the people in his life, but I couldn't recall that name."
The only way Sandy could solve the mystery was to call her half-brother. But she hadn't spoken to him in years.
Somehow she got up the nerve and called. "We had a few awkward moments as we superficially caught up. Then I told him the reason I was calling." Sandy was happy that her half-brother said he was open to the whole concept of life after death and was not remotely surprised that their dad had mentioned Charlie.
"He told me that our dad and Charlie had worked together for many years. Charlie used to drive him to work every day. He said Charlie had recently passed and explained how he and our father had grown really close after spending so much time together."
At that moment, I realized this whole experience of Sandy's dad simply mentioning a dear friend had a more profound affect. He'd wanted to unite his extended family. I think he'd gotten his wish.
Sandy finished up telling me how she's now closer to her brother and his two daughters, which she adores. She said she'd become their favorite aunt! "I might have never known my brother better or his children if I hadn't been at that bookstore that evening."
I made a mental note to myself that as she ended the story, Sandy had dropped the "half" and was referring to him as her brother.


JOHN'S MESSAGE


I'm constantly amazed at how those on the Other-Side can help us here, and that they continue to love us and watch over us. I'm sure Sandy's father is quite happy about his family reunion. And somehow I believe he knew it would happen all along.
Do you have a validation story like this? I'd love for you to share it on my Facebook page or, you can always phone into my Spirit Connections radio show. Equally, if you want to share this newsletter with anyone you think might benefit from the comfort of knowing that you're never alone, feel free to share or recommend they join our community.
Live a Soul-filled life!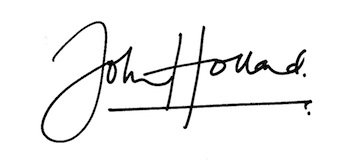 Learn to Communicate with your Loved Ones on the Other-Side
"Your soul is constantly sending you messages of healing and guidance in the form of signs and symbols. 
Once you learn to recognize these messages, and act on them ... a whole new world will open up for you!" 
JOHN HOLLAND - Spiritual Teacher & Psychic Medium 
Bridging Two Realms: Learn to Communicate with Your Loved Ones on the Other-Side