"Inflammation" is one of those health words that is bandied about all the time… but do we really know what it means?
We think of swelling and the color red… we know it's not a good thing, and that we want less of it… but the rest is a bit mysterious.
After my recent online Kitchen Chat about Fighting Cancer -- with Food! (you can get the recording here), one attendee wrote, "I wish you could have spent a whole hour talking about inflammation!" Quite right. It's THAT important. Especially how FOOD fits in, and how we can use food to tone inflammation down.
Let's take a look.
First, definitions. At it's best, inflammation is a normal response of the body to injury and infection and an important component of healing.
Imagine if the different organs and systems in your body weren't on speaking terms. If you ate a big meal, your stomach might keep that news to itself, and your intestines wouldn't release enzymes to digest that meal. Your brain would hoard the knowledge of an oncoming car, and neglect to alert your heart to pump more blood into your extremities so you could leap out of the way safely. You might be staggering from fatigue but your pineal gland couldn't get the other systems in your body to allow you to sleep.
All these communications, and millions more, occur so rapidly that it seems like they're not even happening. The time from someone sneaking up behind you and popping a balloon to you going into full-on fight or flight appears not to exist — it just happens all at once. In reality, the different organs and systems in the body are in constant communication, all the time. And all that data transfers thanks to little chemical messengers known as hormones.
Hormones are involved in almost all of your bodily processes and are vital to your health. They keep your body functioning optimally. And big changes in their production can trigger or signal a physical transition from one stage of life to another. But sometimes hormone levels can be thrown out of balance. Depending on the cause, hormonal imbalances can be temporary or chronic. And while modern medicine tends to treat them with medications, it turns out there's often a lot you can do to balance hormones naturally.
What Are Hormones?
It's a comfort food that's good for you… A salty food that may improve heart health… A peaceful culinary offering to the West from the son of an impoverished warrior… If these sound too good to be true, allow me to introduce you to the delicious, versatile, and wonderful Japanese condiment called miso.
Miso is a popular condiment used in many Asian cuisines. In the US, it's most commonly known as the star ingredient in miso soup. But this pungent paste has several other culinary uses. Traditional Okinawans, who are famous for their longevity and live in one of the world's most heavily studied "Blue Zones," often eat miso soup for breakfast.
Miso is well regarded for its health benefits, despite containing a significant amount of sodium. But if you're unfamiliar with miso, you may be wondering what exactly it is, or how to incorporate it into your diet outside of a traditional miso soup recipe. Let's look at what miso is and what makes it so special.
Since the pandemic hit, the world is facing a very challenging "new normal." Aside from the disease itself, many of us are struggling to stay positive and productive amid social distancing, masks, food shortages, uncertainty, lost jobs, and health fears. Many restaurants have closed for dine-in service or have significantly reduced their capacity, offering contactless, curbside to-go options instead. Some people are ordering take-out, but many are eating out less entirely, moving meal prep to the safety of their own homes.
On top of that, countless night-time venues and social activities are canceled or closed. Kids are home from school with nowhere else to go. And most of us are traveling less than normal. While that may mean more quality time with those closest to us (whether by choice or necessity), it doesn't always mean we're making healthier food choices. Home economics is, for many of us, a lost art that we need to rediscover if we don't want to depend on DoorDash, Postmates, and Uber Eats for all our food.
While putting together a healthy meal at any time of the day can be a struggle, dinner often suffers the most since it's at the end of the day. But dinner is also the meal people are most likely to eat together, making it a perfect opportunity to add more whole plant foods. Plus, dinner is a great time to create leftovers. Today's dinner can be tomorrow's lunch — and maybe even (if you're the adventurous type) the following day's breakfast!
If you don't spend a lot of time in the kitchen, now's a great time to learn not just how to cook comforting, filling, and tasty meals, but healthy ones as well. And even if you're already a cooking whiz, consider expanding your horizons with some plant-based dinner recipes.
A reader recently asked: what does your plate look like? Great question, and one I can answer in a word — veg-centric. 
We could all be eating more vegetables. Tons!
The science is crystal clear that eating MORE vegetables can do each of us a WORLD of good. Increasing the vegetables on our plate points us in the direction of more vibrant health, no matter what our age, gender, ethnicity, or current health conditions. 
But isn't it hard to incorporate more vegetables into your diet? 
No! It's surprisingly easy to fall in love with vegetables and find great ways to use them, because there are a VAST variety of types, colors, textures and flavors to choose from. It becomes more and more exciting the further you explore! 
Will I actually feel better if I eat more vegetables? 
Yes! And you may be surprised by how fast you actually FEEL better. 
At Food As Medicine, where I was Executive Chef for a decade, we offered luncheon buffets full of colorful, organic, largely plant-based dishes. Attendees were often amazed to experience health improvements, some within 24 hours. Elimination might improve dramatically! Focus, mental clarity and overall energy might be discernibly better. Quite impressive results for veg-centric eating in only a few days.
It starts with the "p" word — and that would be "plants."

A flood of new and surprising research is emerging about the role that plants play in brain health. For example, a study on the MIND diet — a combination of the Mediterranean and DASH diets — published online in Alzheimer's & Dementia, The Journal of the Alzheimer's Association — concluded that people who eat more dark, leafy greens at least once a day have substantially slower cognitive decline with age than those who eat the Standard American Diet (SAD). Bingo!
Here I am on my soapbox again, talking to you about the importance of plants — for a reason! Whether it's cancer, longevity, brain health or heart health, you're going to find that the optimal diet has a lot of the color green in it. Why?
People have been baking flatbreads and adding toppings to them for millennia. And pizza precursors span the globe. We know that Persian soldiers actually 
baked flatbreads
 topped with cheese and dates on their shields. Hopefully, they had time to clean them off before the next battle! And the Aeneas tells the story of a cryptic prophecy of Trojan soldiers 
eating their tables
 that turns out to be round breads topped with vegetables. Sorry about that spoiler, but the book was written like 27 centuries ago.

The pizza as we know it and love it today seems to have originated in Naples, Italy. They had to wait for European exploration of the New World for the key ingredient, tomatoes, which are native to the Americas and weren't grown in Europe until one of the first explorers brought back some seeds or cuttings. These strange-colored eggplants, as they were first described, were found to be delicious when seasoned with salt, pepper, and oil. Soon they were dubbed "golden apples," or pomi d'oro.
And one day, perhaps, two distracted Neapolitans were walking on the piazza, one holding a flatbread and the other a stewed tomato, when — bang! — they bumped into each other. And thus was born the classic Italian pizza. (Okay, that might or might not be literally accurate, but it makes for a fun story!)
True confessions: I've written 4 cookbooks with a 5th on the way (about which, more soon) and I have a personal library of 560 cookbooks. YOU'D THINK I'd know what to cook for dinner, like for the next 2, maybe 3 years?

But I'm sure we can all agree that this is a SERIOUS issue that everyone faces! Restaurant chefs. Experienced moms. It's THE question I get all the time. What should I make for dinner?
Good news! Out of sheer exasperation and determination, I have developed superb strategies and time-savers to help us all get dinner on the table AND keep our sanity.
Every minute spent on planning time will smooth out your life in the kitchen.
Once you've got a menu in mind and your shopping and prep work done, cooking is a relative breeze. You will be SO impressed with how calm you are in the kitchen, and how much you enjoy it. Cooking can be a meditative, nourishing act -- IF you prepare!
You may even fall in love with it.
Did you know that fresh herbs and spices don't JUST 10x flavor (as if that weren't enough), but that they have magical healing powers, too? Many contain compounds capable of modifying gene expression to potentially keep cancer and other diseases at bay, plus providing immune support, controlling inflammation, and warding off bacteria and viruses—i.e., they have superpowers! So we're not talking just enhancing taste, but improving wellness and possibly increasing longevity when you reach for that spice jar or throw some chopped herbs in whatever you've got cooking.


I'm delighted to share one of my favorite posts from the archives on this topic. If you haven't seen it before, take a few moments to absorb this truly remarkable knowledge developed over the past decade of nutrition research. Plus get 2 superb recipes, including one of my most popular potato recipes ever. Serious yum!
Having a well-stocked pantry is always a good idea. And in uncertain times, it becomes all the more important. No matter what happens in the world, you'll be healthier, your stress will be lower, and your immune system will be optimized if you have plenty of good, healthy food to eat! Here are some pantry foods (and freezer foods) you might want to consider stocking up on. As always, going organic can help you steer clear of exposure to glyphosate and other pesticides.

This is the list my family put together, based on the pantry and freezer items we stocked up on. I'm posting it here because I hope it might help you and yours, too!
I've always followed the food trends—what's in, what's out? They can be as trendy and entertaining as fashion. As the new year, new food articles come out, sometimes I laugh and sometimes I grit my teeth. We're inundated with how to be healthy and hip.
Apparently in 2020:
Eating blue food is in. (Blueberries have always been "in" for me.)

Awareness that how we eat affects global warming is up. (A necessity, not a trend.)

Impossible Burgers lead the food industry parade of new food. Everybody's excited about a burger made of plants with meat-like qualities. (But—are they really made of plants?)
Here's the trend I'm seeing: it's simplifying. 
Wouldn't it be great to take the stress out of going into the kitchen? Make cooking NOT this complicated thing in our lives, especially when there are so many demands on our time? 
We're all being bombarded by a LOT of information, about the planet, the politics, your kids, your dogs… life happens fast, but we have to keep ourselves nourished. We need to find a simple way.
I look back at my first cookbook and think gosh, could I have made this recipe more complicated? With a laundry list of spices, including ⅛ teaspoon of cardamom? Like I couldn't live without that? I say this as the author of 5 cookbooks and someone who's helped chefs in restaurant kitchens, home cooks, community cooks… the whole spectrum.
This is my year to crack the code and come up with a formula.
I'm putting it out there, the challenge I've set myself that I think will help many of us. What if it could just be simpler? 
Soul food is a variety of cuisine originating in the Southeastern United States. It has been a cultural staple among the African American community for centuries — starting as a means of survival during the many decades of slavery and evolving into many modern-day variations.
Writing for the blog, Black Foodie, Vanessa Hayford tells us: "During the Transatlantic Slave Trade, enslaved African people were given meager food rations that were low in quality… With these rations, enslaved people preserved African food traditions and adapted traditional recipes with the resources available. Over time, these recipes and techniques have become the soul food dishes we are familiar with today. This food genre… was born out of struggle and survival."
Few foods generate as much passion as chocolate. Perhaps it was inevitable with a plant given the scientific name of Theobroma (Greek for "food of the gods") cacao.
These days we may still consider chocolate to be a heavenly substance, but we consume far more of it, in vastly different ways, than the ancient Mesoamericans who first harvested and prepared it. And this, of course, has health consequences.
Is chocolate bad for you? Should you limit your consumption, or try to get it out of your diet altogether? Or is it actually a health food?
And what about reports of child labor, slavery, extreme poverty, and environmental degradation related to the chocolate trade? Is it possible to obtain "guilt-free" chocolate? If so, how can you tell which chocolate products contribute to the welfare of chocolate farmers and their communities?
A Brief History of Chocolate
The Theobroma cacao tree is native to Central and South America. The Azteks believed that the seeds were gifts from Quetzalcoatl, god of wisdom. For several centuries in premodern Latin America, cacao beans were considered valuable enough to be used as currency.  Both the Mayans and the Aztecs believed the cacao bean had magical properties, suitable for use in the most sacred rituals of birth, marriage, and death.
For much of its history, chocolate was served as a bitter drink, either heated or fermented into alcohol. When Columbus introduced cacao beans to European high society following his return from the Americas, it started a cacao craze that led to European colonization and enslavement of large areas of Mesoamerica and West Africa in the rush to grow and control cacao plantations.
The industrial revolution in 19th century Europe applied new methods to chocolate production. Alkalizing salts reduced bitterness. The "Dutch cocoa" process separated cocoa butter from the liquor and made it easier and cheaper to produce in large quantities. In the US, early 20th century inventors and entrepreneurs Milton Hershey and Franklin Mars turned chocolate from a local, artisanal product into a mass-produced industrial foodstuff. Hershey's milk chocolate in particular, combined with epic amounts of sugar, was sweet enough to convert an entire nation into chocoholics.
These days, Americans consume about $18 billion worth of chocolate each year, for an average of just under 10 pounds per person. And keep in mind that's just an average: some people abstain, so there are folks who eat way more than that!
There's no question that chocolate can be delicious – but what about its effects on your health?
You know how it is when you're feeling like crap? It's your body's way of saying, look, we need a re-boot! Listen to me and just clear your books. We need a rest! You know it and I know it when that happens. The question is: do we pay attention?
I did when this happened to me recently, and I wanted to tell you how I wrangled self-care while feeling lousy.
Transition Time
It's that time of year, September/October, when we're transitioning into fall. We're going from raw foods and the heat of summer to the precariousness of fall, that changes from warm or hot to rainy and cold in the blink of an eye. We're a little more vulnerable. This is the perfect time to really pay attention to what your body is asking for, and what it's rejecting! 
A one-woman show of my paintings opened at Commonweal in Bolinas, California (August 14 - October 31, 2019) on a Saturday in mid-August. It's called Daily Bread, from a quote I've always loved of Emerson's: "The sky is the daily bread of the eyes." As I wrote in the introduction to the show, 
"The sky is the daily bread of my imagination—always there, ever-changing, never static, vast, wondrous, soul-nourishing, full of mystery and awe."

"The sky is a visual way to think about life—and to keep perspective on our own experience. It's so much greater than the sum of its myriad parts, overarching everything, seductive with the constant movement of the atmosphere, enchanting as it keeps us engaged in the present moment."
Having my own show, at Commonweal, where I had cooked for the Cancer Help Program 20 years ago, was an astounding experience where, in the healing space of Commonweal, my paintings took on a magical life of their own.
I'd never seen these 13 new paintings together before, much less in the beautiful 1,500 square-foot gallery at Commonweal. I couldn't truly know how they would look and feel until I hung the show in the gallery the Monday before, and until the people were there to interact with them—people who are really special in my life, along with memories of people who have passed.
"I scream, you scream…" — you know how it goes. Ice cream is one of the most beloved foods in the world. The average American consumes more than 23 pounds of ice cream per year. And with the plant-based movement in full swing, more and more consumers are opting for non-dairy ice creams.
You may know that my family is intimately familiar with ice cream. My grandfather, Irv Robbins, co-founded Baskin-Robbins. At the time, most folks seemed content with vanilla, chocolate, and strawberry — the classics. But he thought there should be more flavors — 31, in fact! And he brought smiles to a lot of faces.
Unfortunately, in case anyone on the planet missed the memo, ice cream is not a health food. It turns out that despite its delicious flavor, eating a lot of ice cream doesn't do any favors for your long-term health.


Why Ice Cream Isn't Healthy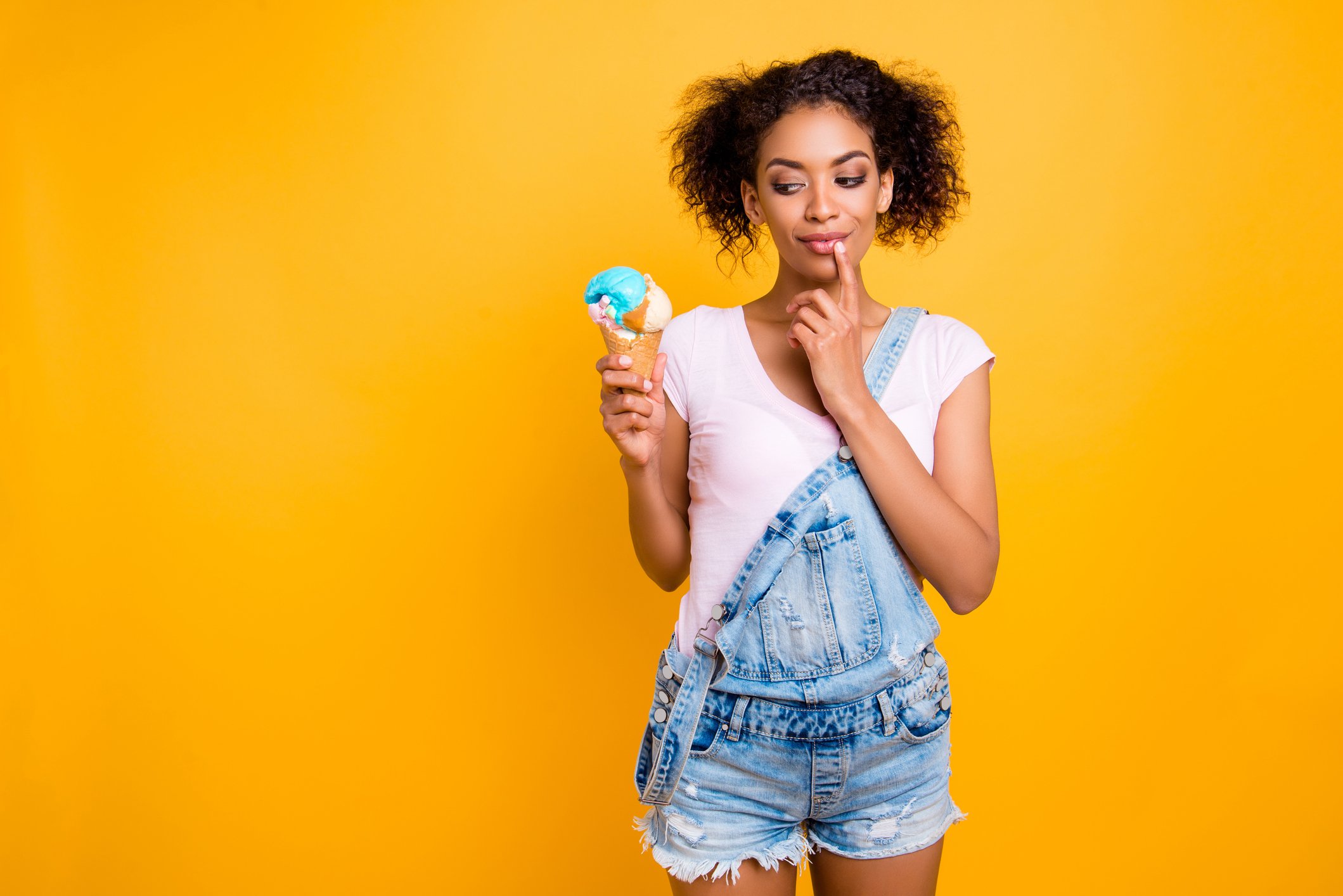 Have you ever experienced that rare moment when you've been around long enough to see signs of system-wide transformation occur before your very eyes? Dear reader, such has been the case with the role of food and medicine in the span of my professional career, during which I've devoted myself and my talents towards this very end—bringing science to the table, and food to the treatment plan.
The moment that filled my heart!
My foundation, Healing Kitchens, works with different hospitals and cancer centers to provide culinary content for their patients. We recently accepted an invitation to pay a call at Stanford Health Care. We've done some interesting work at Stanford in the past, including online, live and printed material for neuroendocrine cancer patients and for their survivorship program and website. We had modified my Cancer-Fighting Kitchen approach with specific protocols for neuroendocrine and carcinoid syndrome—two very specialized forms of cancer—and word got out. A colorectal surgeon at Stanford putting together a trial for pre-op prep for her patients suggested we meet and talk about the role food can play in patient preparedness and recovery.
The surgeon and her team were curious: what would happen if we have people shift their eating to an immune-boosting diet full of anti-inflammatory foods and also include exercise? Would it help people recover faster and with less chance of complications?
This was MUSIC to my ears! The notion of helping patients BEFORE they go into surgery with food!!!! We introduced her to my famous healing, nourishing Magic Mineral Broth. Oh my gosh, she said, is this a clear broth? I can give this to all my patients!!! Long story short, we're working on a package to go into this critical trial.
I'm fresh off the plane from Japan, where in addition to sampling the cuisine (see my field report below) we followed the peak of cherry blossom blooms from place to place by train. Peak bloom is only one week, and which week is not entirely predictable. We hit it!  And we were utterly and delightfully besotted. :)
Spring has been super rainy for us (it's been raining for almost a full week now!), with only a sprinkling of a few nice days, so cozy food cravings are still in full swing around here. I seriously can't wait until freezing cold smoothies, raw salads, and huge watermelon mono-meals regain their appeal, but I definitely don't mind living on this pot pie til then :) It's got almost all the comforting features of a traditional pot pie, but is made with bright spring produce and a blanket of thinly sliced vegetables instead of the more traditional pastry-based crust.



Leeks, asparagus, peas, and spinach all made it into this pot pie in celebration of spring. There's also quinoa for more substance and a stew-like texture, as well as carrots and zucchini. The crust is made up of thinly sliced potatoes (use new potatoes for the ultimate seasonal points) and zucchini. You could totally sub in your favorite pot pie pastry crust here if you're looking for something even more substantial, store-bought biscuits would work too.
Daily Personal Support
Join Panache Desai every morning and for support in reconnecting to the wellspring of calm and peace that lives within you and that has the power to counterbalance all of the fear, panic, and uncertainty that currently engulfs the world.
 Designed To Move You From Survival and Fear to Safety and Peace
Popular Wellness Articles
Join Soulspring for conscious insights...
...on all things life, wellness, love, transformation and spirituality...
 PLUS! Get your FREE Guide: 12 Mindfulness Practices to a Peaceful Mind