"Inflammation" is one of those health words that is bandied about all the time… but do we really know what it means?
We think of swelling and the color red… we know it's not a good thing, and that we want less of it… but the rest is a bit mysterious.
After my recent online Kitchen Chat about Fighting Cancer -- with Food! (you can get the recording here), one attendee wrote, "I wish you could have spent a whole hour talking about inflammation!" Quite right. It's THAT important. Especially how FOOD fits in, and how we can use food to tone inflammation down.
Let's take a look.
First, definitions. At it's best, inflammation is a normal response of the body to injury and infection and an important component of healing.
Soybean, a legume whose origin is East Asia, has grown to be one of the world's most consumed products today. Some people eat them as a whole, while others eat them as processed products, including soy sauce, soy flour, soybean oil, tofu, and soy milk. The product, which is often mixed with other foods or making soups, has many health benefits, like preventing further health issues. It's good to taste, and health benefits have contributed significantly to its popularity.
Imagine if the different organs and systems in your body weren't on speaking terms. If you ate a big meal, your stomach might keep that news to itself, and your intestines wouldn't release enzymes to digest that meal. Your brain would hoard the knowledge of an oncoming car, and neglect to alert your heart to pump more blood into your extremities so you could leap out of the way safely. You might be staggering from fatigue but your pineal gland couldn't get the other systems in your body to allow you to sleep.
All these communications, and millions more, occur so rapidly that it seems like they're not even happening. The time from someone sneaking up behind you and popping a balloon to you going into full-on fight or flight appears not to exist — it just happens all at once. In reality, the different organs and systems in the body are in constant communication, all the time. And all that data transfers thanks to little chemical messengers known as hormones.
Hormones are involved in almost all of your bodily processes and are vital to your health. They keep your body functioning optimally. And big changes in their production can trigger or signal a physical transition from one stage of life to another. But sometimes hormone levels can be thrown out of balance. Depending on the cause, hormonal imbalances can be temporary or chronic. And while modern medicine tends to treat them with medications, it turns out there's often a lot you can do to balance hormones naturally.
What Are Hormones?
A reader recently asked: what does your plate look like? Great question, and one I can answer in a word — veg-centric. 
We could all be eating more vegetables. Tons!
The science is crystal clear that eating MORE vegetables can do each of us a WORLD of good. Increasing the vegetables on our plate points us in the direction of more vibrant health, no matter what our age, gender, ethnicity, or current health conditions. 
But isn't it hard to incorporate more vegetables into your diet? 
No! It's surprisingly easy to fall in love with vegetables and find great ways to use them, because there are a VAST variety of types, colors, textures and flavors to choose from. It becomes more and more exciting the further you explore! 
Will I actually feel better if I eat more vegetables? 
Yes! And you may be surprised by how fast you actually FEEL better. 
At Food As Medicine, where I was Executive Chef for a decade, we offered luncheon buffets full of colorful, organic, largely plant-based dishes. Attendees were often amazed to experience health improvements, some within 24 hours. Elimination might improve dramatically! Focus, mental clarity and overall energy might be discernibly better. Quite impressive results for veg-centric eating in only a few days.
By Naveen Jain and Deepak Chopra™, MD

It is fair to say that the exploration of the microbiome has turned out to be the most exciting prospect in medicine since the discovery of DNA. Most people have at least heard the term "gut microbiome," which applies to the trillions of microbes, chiefly bacteria, that live in the human digestive tract. Awareness has risen to the point that taking probiotics—over-the-counter additives of microbes to supplement and balance the gut microbiome—has become a global $5 billion-dollar market.


We've reached the point, after a decade of intense investigation, where the ABCs of the microbiome are known. These facts provide the groundwork for what you can do, or cannot do, to improve your own gut microbiome (the word "gut" is necessary because we have multiple microbiomes in our mouth, groin, and armpits as well as over the surface of our skin).
Salt has long occupied a prominent place in human history. But do you have the all the facts on sodium?
For thousands of years, people who didn't live near the ocean would travel great distances to trade for salt. Salt has been the center of many battles, often referred to as The Salt Wars. And a few British towns that end in "wich" (like Droitwich, Middlewich, Nantwich, Northwich, and Leftwich) were named for and associated with their salt works (the cognate wic sometimes related to salt works, although wic's usual meaning was "dwelling, place, or town"). Isn't history neat?
Our esteem for salt goes back to Biblical times. When you call someone "salt of the earth" to indicate that they embody integrity and composure in difficult situations, you're actually quoting from Matthew 5:13. Salt was valued so highly that it was equated with currency, as you can hear in our modern word "salary," or "payment in salt."
But why? What made salt worth journeying, sometimes killing, and occasionally dying for throughout history?
Why We Like Salt So Much
It starts with the "p" word — and that would be "plants."

A flood of new and surprising research is emerging about the role that plants play in brain health. For example, a study on the MIND diet — a combination of the Mediterranean and DASH diets — published online in Alzheimer's & Dementia, The Journal of the Alzheimer's Association — concluded that people who eat more dark, leafy greens at least once a day have substantially slower cognitive decline with age than those who eat the Standard American Diet (SAD). Bingo!
Here I am on my soapbox again, talking to you about the importance of plants — for a reason! Whether it's cancer, longevity, brain health or heart health, you're going to find that the optimal diet has a lot of the color green in it. Why?
Self-care should be uppermost in our minds during the COVID-19 crisis, for several urgent reasons. Self-care returns a sense of control over your own life. It gives you an integrative approach to mind and body. It aligns you with the best knowledge currently available about who is more at risk for developing acute symptoms after being infected.
Your immune status is complex, and in mainstream medicine the chief determining factor is traditionally considered to be genetic. However, there are strong links to underlying low-level chronic inflammation connected to lifestyle that is found in most if not all common disorders including heart disease, type 2 diabetes, some cancers, and even obesity. COVID-19 has a mortality rate that increases with age and pre-existing conditions, as we all know by now.
Having a well-stocked pantry is always a good idea. And in uncertain times, it becomes all the more important. No matter what happens in the world, you'll be healthier, your stress will be lower, and your immune system will be optimized if you have plenty of good, healthy food to eat! Here are some pantry foods (and freezer foods) you might want to consider stocking up on. As always, going organic can help you steer clear of exposure to glyphosate and other pesticides.

This is the list my family put together, based on the pantry and freezer items we stocked up on. I'm posting it here because I hope it might help you and yours, too!
Bananas aren't just for monkeys. In fact, among humans, they're one of the most popular fruits in the world — and for a good reason. They're delicious, inexpensive, and they even come in their own convenient packaging.
But is this delicious fruit good for you? Are they sustainable? And are there any downsides to this beloved fruit, other than the danger of slipping and falling on a peel? And what are some of the best ways to enjoy bananas?
History of Bananas
Bananas are the fruit of the Musa acuminata plant. The word "acuminata" means tapering or long-pointed and refers to the flowers, not the fruit itself. Before the banana was called the banana, around the 17th century, it was named "banema" in Guinea.
Bananas originally came from the Indo-Malaysian region, stretching down to northern Australia. Historians guess that people started spreading the wonder of edible bananas in the Mediterranean region in the 3rd century, B.C. It wasn't until the 10th century, A.D., that bananas are presumed to have first arrived in Europe and began their spread around the globe.
Millions of people around the world have gone gluten-free in the last decade. A 2015 Gallup poll found that around one-fifth of Americans and many Europeans prefer gluten-free foods. 
So it makes sense to ask the question: should we avoid gluten? Is it bad for our health? Should everyone go gluten-free, or just certain people? 
Ordinarily, these questions would lend themselves to pretty straightforward scientific inquiry. Researchers would examine different populations, explore the biochemistry of gluten in the human body, and conduct randomized trials to see the results of different dietary patterns.
All this work is already out there — and we'll talk about a lot of it in this article. But talking rationally about gluten has become difficult for a couple of reasons. First, there's a lot of money in convincing as many people as possible not just to avoid gluten, but to purchase manufactured gluten-free analogues and substitutes. By 2020, the gluten-free foods market is projected to reach $7.59 billion in the United States alone.
Second, gluten has become a pawn in the culture war between vegans and meat lovers. Many in the Paleo and keto communities cite gluten concerns as evidence that plant-based diets are inferior to those containing large amounts of (gluten-free) animal products.  
When financial interests and cultural forces intersect, the truth often suffers. The "You're-either-with-me-or-against-me" attitude can undermine the good-faith pursuit of truth, and the millions of dollars at stake can fund pro-industry propaganda at the expense of facts.
What to Expect in This Article
In this article, we focus on the actual evidence. We explore what the science says about gluten, who can benefit from avoiding it, and whether it might actually be beneficial for some people.
And we want to remind you upfront that you know more about your body than anyone else does. More than the marketers trying to sell you their products. More than the scientists searching for trends in large populations. And more than your social media friends and acquaintances sharing the latest blog post on why you should never touch wheat. Or why your so-called gluten-intolerance is nothing but a placebo effect. So read on, and consider what we're learning from scientific inquiries, along with your own experience of what your body is telling you. 
You know how it is when you're feeling like crap? It's your body's way of saying, look, we need a re-boot! Listen to me and just clear your books. We need a rest! You know it and I know it when that happens. The question is: do we pay attention?
I did when this happened to me recently, and I wanted to tell you how I wrangled self-care while feeling lousy.
Transition Time
It's that time of year, September/October, when we're transitioning into fall. We're going from raw foods and the heat of summer to the precariousness of fall, that changes from warm or hot to rainy and cold in the blink of an eye. We're a little more vulnerable. This is the perfect time to really pay attention to what your body is asking for, and what it's rejecting! 
"I scream, you scream…" — you know how it goes. Ice cream is one of the most beloved foods in the world. The average American consumes more than 23 pounds of ice cream per year. And with the plant-based movement in full swing, more and more consumers are opting for non-dairy ice creams.
You may know that my family is intimately familiar with ice cream. My grandfather, Irv Robbins, co-founded Baskin-Robbins. At the time, most folks seemed content with vanilla, chocolate, and strawberry — the classics. But he thought there should be more flavors — 31, in fact! And he brought smiles to a lot of faces.
Unfortunately, in case anyone on the planet missed the memo, ice cream is not a health food. It turns out that despite its delicious flavor, eating a lot of ice cream doesn't do any favors for your long-term health.


Why Ice Cream Isn't Healthy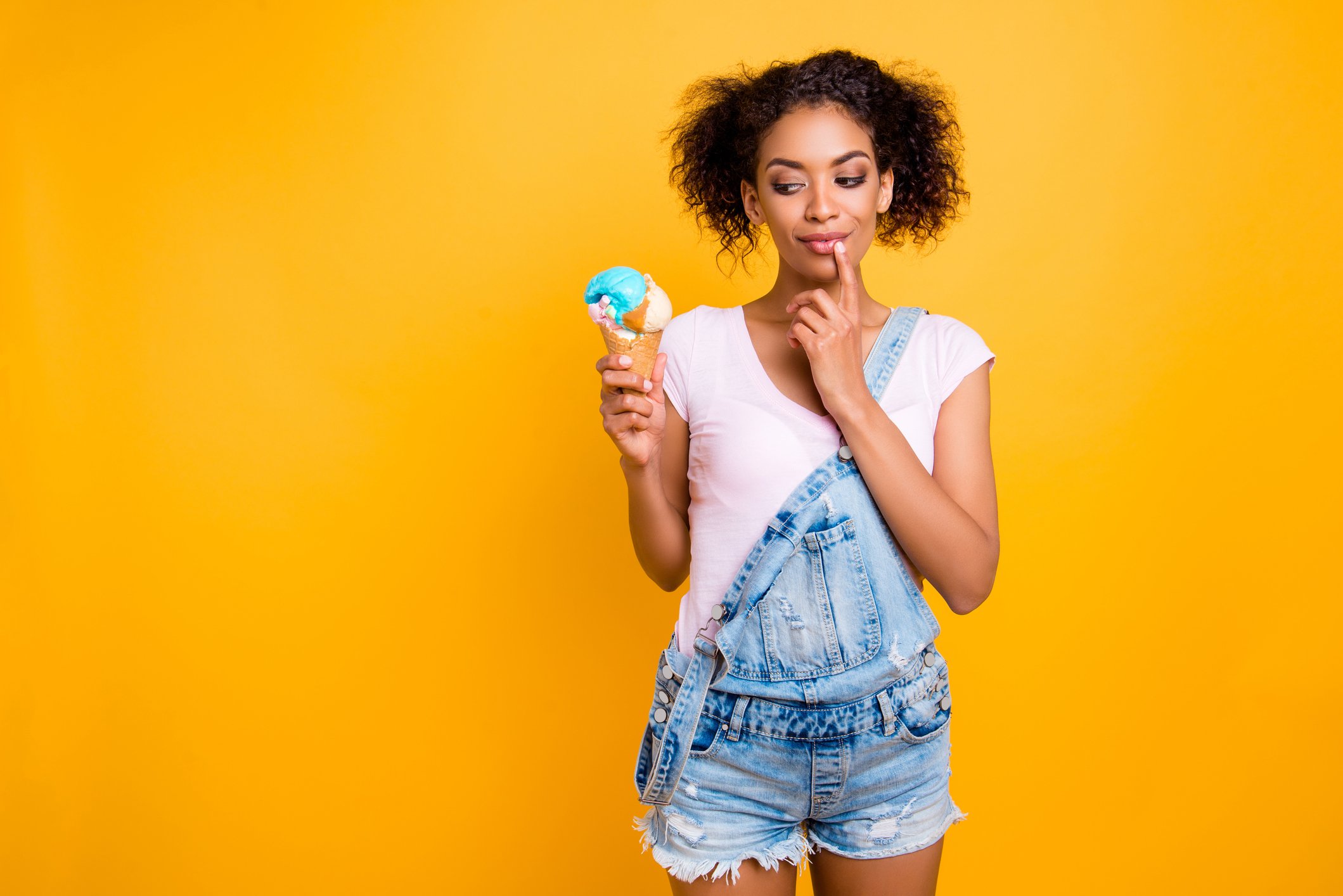 Have you ever experienced that rare moment when you've been around long enough to see signs of system-wide transformation occur before your very eyes? Dear reader, such has been the case with the role of food and medicine in the span of my professional career, during which I've devoted myself and my talents towards this very end—bringing science to the table, and food to the treatment plan.
The moment that filled my heart!
My foundation, Healing Kitchens, works with different hospitals and cancer centers to provide culinary content for their patients. We recently accepted an invitation to pay a call at Stanford Health Care. We've done some interesting work at Stanford in the past, including online, live and printed material for neuroendocrine cancer patients and for their survivorship program and website. We had modified my Cancer-Fighting Kitchen approach with specific protocols for neuroendocrine and carcinoid syndrome—two very specialized forms of cancer—and word got out. A colorectal surgeon at Stanford putting together a trial for pre-op prep for her patients suggested we meet and talk about the role food can play in patient preparedness and recovery.
The surgeon and her team were curious: what would happen if we have people shift their eating to an immune-boosting diet full of anti-inflammatory foods and also include exercise? Would it help people recover faster and with less chance of complications?
This was MUSIC to my ears! The notion of helping patients BEFORE they go into surgery with food!!!! We introduced her to my famous healing, nourishing Magic Mineral Broth. Oh my gosh, she said, is this a clear broth? I can give this to all my patients!!! Long story short, we're working on a package to go into this critical trial.
Non-dairy milk comes from plants — like soy, nuts, seeds, or grains like oats or rice — instead of cows. And with dairy in decline, the popularity of milk alternatives is at an all-time high.
One of the first American advocates for soy milk was Henry Ford, who opened a soy milk plant in his Michigan research center in 1934.
Sugar is heavily ingrained in our food system today, but what can be even more overwhelming is the number of sugar substitutes you can choose from. Should you use sugar alternatives? Are they better than sugar? And how do you pick the best one(s) for you?
---
If there was an award for the most overused food ingredient with the least nutritional value, sugar would likely win in a cakewalk.
I'm not talking about sugars naturally found in fruits and vegetables. I'm talking about added sugars — mainly plain 'ol white sugar and its troublesome twin, high-fructose corn syrup.
There's really nothing beneficial about sugar — besides the temporary appeasement of your taste buds — but most of us eat way more of it than we should.
The American Heart Association recommends no more than six teaspoons of added sugar per day for women and nine per day for men. But the average American consumes 94 grams every day or over 350 pounds a year.
So, what about alternative sweeteners or sugar substitutes?
Approximately 145 million people in the United States are estimated to have used sugar substitutes in 2018. Sugar substitutes attract consumers because they're labeled as being naturally derived, or calorie-free, or simply because they're not sugar.
But what are sugar substitutes made of? And how do they rank in nutritional value? Are certain sugar substitutes better for you than others?
Before I get into all of that, let's examine why sugar is not a health food.
Avocados are popular and loved by many. In fact, consumption in the U.S. has risen more than fourfold in the last 20 years. But how much do you know about the creamy green fruit (yes, it's a fruit!)? Are there avocado health benefits you should know about? Where do they come from? And are they sustainable? Keep reading to find out!


You can find avocados almost everywhere — from grocery stores and farmers markets to chocolate pudding recipes.
Once considered a delicacy, this green tree fruit is now a common addition to tables and menus all over the world.
People's love affair with avocados has gained traction in recent years. The growth in sales outpaces that of any other fruit. And in 2015, The Washington Post dubbed avocados "America's new favorite fruit."


We now know the importance of lifestyle factors like diet in the prevention and reversal of heart disease. What are the best heart healthy foods? And what other factors contribute to heart disease? Read on to find out!


Do you know anyone, perhaps a friend or family member (or maybe even yourself), who has had a heart attack?


Chances are you do. According to the American Heart Association's 2018 Heart Disease and Stroke Statistics, about 92 million American adults are living with cardiovascular disease.


And every 40 seconds, a heart attack occurs in the U.S. alone.


Heart disease has become a global epidemic. It's the #1 cause of death on the planet.


It's affected my family, too. I never even got to know my great-uncle, Burt Baskin, because he died of a heart attack six years before I was born.


How Heart Disease Affected My Family

You see, my great-uncle Burt was one half of the ice-cream company, Baskin-Robbins. And the other half was my grandpa, Irvine Robbins.
Antibiotics are powerful drugs. Medical professionals often prescribe them. But the truth is, factory farms use the majority of antibiotics. And the overuse of antibiotics is causing antibiotic resistance — one of the most serious public health issues facing our world today. Learn more about the dark side of antibiotic use — and what this has to do with food recalls. And most importantly, learn what you can do about it.


When I was three months old, I came down with a high fever. Up until that point, I had subsisted entirely on breast milk. Although I lived in a relatively unpolluted environment, I'd picked up contamination from somewhere.


Before long my fever was raging at 104 degrees, and I was so weak I was unable to muster a cry.I'm grateful that my parents took me to a doctor, who put me on antibiotics. Within hours, my fever was down, and my sickness had reversed.


That antibiotic prescription may have saved my life.


What Exactly Are Antibiotics?
In spite of, or perhaps because of, all the diet and nutrition advice out there, most people are totally confused about what the heck they should be eating. But modern science is actually pretty clear about the optimal diet for most people, most of the time. What's the verdict? Find out the best diet for humans in this article. 


By Ocean Robbins • Adapted from Ocean Robbins' soon-to-be-released book, 31-Day Food Revolution (February 5th, 2019). Get your copy here now.


We have access, today, to more information about diet and disease than any population that's ever lived. We can review the findings of tens of thousands of studies published in peer-reviewed medical journals, from any laptop or smartphone.


Thousands of nutrition and diet books are published every year, while billions of websites tell you what to eat and what to avoid.


Unfortunately, many of them are wrong.