It's that time of year again when we think about how to show our love to family and friends and community, especially those in need. What shall we give? I've been thinking that gifts don't necessarily come wrapped in a little box. Though they certainly can!
The gift of time
Some of the most meaningful gifts are gifts of time, which is ENORMOUSLY valuable.
We can volunteer, helping in any way that calls to us—visiting elder folks, cooking for people with cancer, reading to children, pitching in to clean up a river, serving meals at a soup kitchen. Good for your community, good for the soul. 

We can spend time with someone we love. Hang out and play cards, listen to music together, or read aloud to them if they're not well. Or make a kitchen date! Make 3 pots of soup and split the proceeds. There's nothing like laughter to season the soup to perfection. Or duck out to a movie together! Excellent for keeping holiday stress levels in check.

We can make something for someone we love. Imagine how much your dear friend would love 2 quarts of soup or a soup assortment! A box of Triple Triple Brittle (see below) all dolled up in a box with ribbon. A certificate for dinner at your house (a favorite of mine in a pinch). Be at my house at_______to be fed! A work of art, a lovingly knit cowl, or a hand-sewn sachet filled with lavender and rose petals fall into this category, too. 
And then there are chocolates.
Self care is essential in our lives for building resilience towards those stressors which we cannot eliminate. We need to live our lives to our utmost potential, so we need to take steps to care for our mind and body. 
People wrongly presume that self care is a luxury. That's why they remain generally fatigued, irritable, tired and overwhelmed most of the time. They need to understand that self care has to be a priority in their lives. It is then that they can make their lives seem worth while. 
 An American journal rightly described self care as a multidimensional and multifaceted purposeful engagement in strategies that promote healthy functioning. 
We can observe that gyming once in a while, going on an occasional diet or even playing a game sometimes, is not going to be of consequence. You need to have a sense of regularity. Building a schedule for yourself will help keep you monitored completely. 
We need to categorize the various types of self care for our own convenience so that when we look at it objectively we can know how to handle every area of our lives. 
Research indicates a surprising discovery about how our face affects our emotions.


I love it when I learn something new that adds a bit of joy to life. In the book Blink by Malcolm Gladwell, I read of a study done by three men – Paul Ekman, Wallace Friesen and Robert Levenson, on what happens in the body as a result of facial expressions.
Volunteers were "…hooked up to monitors measuring their heart rate and body temperature – the physiological signals of such emotions as anger, sadness, and fear. Half the volunteers were told to try to remember and relive a particularly stressful experience. The other half were simply shown how to create, on their faces, the expressions that corresponded to stressful emotions, such as anger, sadness, and fear. The second group, the people who were acting, showed the same physiological responses, the same heightened heart rate and body temperature, as the first group." (p. 207)
"The wound is the place where the Light enters you." ~ Rumi


Waking up in a jail cell with little to no recollection of how you got there really isn't anyone's idea of a good time—okay, at least it's not most people's idea of a good time—yet thanks to living in active addiction for many years, I've managed to accomplish this feat on more than a few of occasions.
Today, I have more than a couple of years in sobriety, a first in my life since the age of fifteen. This isn't my first time in recovery, though it's definitely been the longest and most heart-centered attempt I've ever made. I've knocked on deaths door numerous times as a result of being an addict and spent more time in detoxes, rehabs, psychiatric hospitals and jails than I care to remember.
I was actually messaging with someone from my past recently, someone I hadn't spoken with in quite a long time as a result of addiction and other circumstances. At one point she wrote, "I used to check the obituaries for you, Chris" and I didn't even blink an eye at that statement.


For all intents and purposes, the way I was living should have killed me ten times over and yet, for whatever reason, I'm still here, I'm still alive, something so many addicts can't say as they've lost their lives to this
 

insidious disease.



I attribute the better part of these years in recovery to something I'm grateful to have finally learned, something I'd let slip through my ears at 12 Step Meetings for far too long, so I ask you to hear me when I say; the healing process (which goes for both addicts, and non-addicts alike) is always, always an inside job.
Switch to the traditional system of healing in this modem world with Ayurveda. Herbs seem complex but the ancient medicine method is extremely beneficial. To cut it short, explore and know six of them that protect the body.

"The plants have enough spirit to transform our limited vision."- Rosemary Gladstar


Isn't it wonderful when we see how old things or methods or trends make a comeback? Similarly, the same thing happens in the world of health, food, and healthcare. The year has been extremely wonderful, where we witness that what is old is new again.
We have seen how people are starting to be okay again with carbs, switching to a Mediterranean diet, adapting ancient old methods for health, weight loss, beauty, and for much more stuff to be counted.
And among the one is Ayurveda herbs.
This ancient old system always entices people with its amazing benefits. With the growing popularity of Ayurveda, more people than ever are dabbing in herbs and Ayurveda remedies for their healthcare.
Ayurveda is one of the oldest wellness practices and a huge promoter of inner healing, beauty, massage, cooking, women's health, and of course herbs and medicinal plants. You can even learn extensively about these programs with Ayurveda Courses in India.
Ayurveda or discussing Ayurvedic herb is not seamlessly possible to brief down in a blog like this, but we tried best within our reach to offer you six amazing Ayurvedic herbs that protect your body.
The responsibility of keeping ourselves happy, is totally our own. Every individual is completely responsible for his or her own happiness. Each one of us is capable of making our dreams a reality. It is up to us to harness the forces into play for ourselves. This will require a dramatic change of behavior in the way you do things and even in your thinking process. You have to be ready for it. You need to understand that you will be doing this, because you will have to change the fundamental essence within you.

BRINGING IN CHANGE
People invariably reach a point in their lives, where they feel the necessity to change, as their lives seem to be stagnant and meaningless. They stop feeling the essential joy of "Being Alive", which is the inherent nature of every human being. We keep putting it off since change scares us. We are so comfortably settled, in our own comfort zone, that moving away from that zone seems unnatural to us. But we need to realize that we have to do it. Sitting in the same situation will only keep generating more and more stress due to a stagnant invariable.

How can we have a passive approach to an active expectation?
Millions of people around the world have gone gluten-free in the last decade. A 2015 Gallup poll found that around one-fifth of Americans and many Europeans prefer gluten-free foods. 
So it makes sense to ask the question: should we avoid gluten? Is it bad for our health? Should everyone go gluten-free, or just certain people? 
Ordinarily, these questions would lend themselves to pretty straightforward scientific inquiry. Researchers would examine different populations, explore the biochemistry of gluten in the human body, and conduct randomized trials to see the results of different dietary patterns.
All this work is already out there — and we'll talk about a lot of it in this article. But talking rationally about gluten has become difficult for a couple of reasons. First, there's a lot of money in convincing as many people as possible not just to avoid gluten, but to purchase manufactured gluten-free analogues and substitutes. By 2020, the gluten-free foods market is projected to reach $7.59 billion in the United States alone.
Second, gluten has become a pawn in the culture war between vegans and meat lovers. Many in the Paleo and keto communities cite gluten concerns as evidence that plant-based diets are inferior to those containing large amounts of (gluten-free) animal products.  
When financial interests and cultural forces intersect, the truth often suffers. The "You're-either-with-me-or-against-me" attitude can undermine the good-faith pursuit of truth, and the millions of dollars at stake can fund pro-industry propaganda at the expense of facts.
What to Expect in This Article
In this article, we focus on the actual evidence. We explore what the science says about gluten, who can benefit from avoiding it, and whether it might actually be beneficial for some people.
And we want to remind you upfront that you know more about your body than anyone else does. More than the marketers trying to sell you their products. More than the scientists searching for trends in large populations. And more than your social media friends and acquaintances sharing the latest blog post on why you should never touch wheat. Or why your so-called gluten-intolerance is nothing but a placebo effect. So read on, and consider what we're learning from scientific inquiries, along with your own experience of what your body is telling you. 
Yoga is a disciplinary practice that helps us reshape our unconscious patterns. It disciplines us by reducing the fluctuations of our mind and keeping it in harmony with body. Practicing yoga helps build a framework to make conscious choices with clarity, mental peace and happiness. This unparalleled form of wisdom is the ingredient we need for a spiritual aware and enlightening our souls.
Yoga practice mainly consists of Asanas, Meditation Pranayama, making it an efficient way to uplift our physical and mental health. Yoga asanas can improve our physiology by increasing: flexibility, strength, mobility and balance. Yoga is a great tool to fix one's physical stature and posture. The physical postures in Yoga allow our body to go through a full range of motion, reducing pain and tension in the muscles. 200 Yoga teacher training in Rishikesh is the perfect opportunity to correct physical posture and alignment using different styles of Yoga.
Modern form of Yoga has been divided into different forms, each with a distinctive style and health benefit. It might be a difficult task to choose the one that resonates with us, but we can make an informed decision after evaluating all the styles available:


Hatha Yoga
This ancient style of Yoga is very common and focuses on asanas and pranayama. The asanas include twisting, reclining, standing and balancing of the body. This form of Yoga is highly practiced in Yoga teacher training in India
What to expect: The Yoga asanas can be physically challenging and are usually slow and calm.
Who should opt: If you need a grounded and pure form of Yoga with standing and sitting poses. Also for those who wish to develop awareness through pranayamas.
Benefits: Reduces muscular pain and de-stresses the body.


I often get asked the question:
"Kute, how do you have so much energy?"
I teach 18 hours a day, 12 days straight, nonstop. When I teach weekend seminars, I do 32-40 hours in two and a half days.
In my opinion, you can drink all the green juice, eat the superfoods, inject yourself with IV supplements, do crazy exercise routines, all of which are great…..
But unless you have your mind, your heart, your spirit right, none of that really matters.
Why?
Your unresolved stuff will simply bring you down to that level at which you haven't healed yet. So I found a lot of health approaches to be "Outside-In" rather than "Inside-Out."
Self care needs to be positioned above all else. If we don't take adequate measures for self care, all the self relief activities we delve into, are a pretty useless excercise.

Self care has been defined in a medical journal as" a multidimensional, multifaceted process of purposeful engagement in strategies that promote healthy functioning and enhance well being." This might sound complicated, but in simple words we need to just say that Self care is extremely essential for our physical and mental well being.


MIND BODY CONNECT

When you have taken adequate steps to care for your mind and body, you are well equipped to handle the daily stressors that life seems to throw at you. The same thing which could be a stressor for one person, could be an exhilarating adventure for another. To each his own actually.
It's easy to let the stresses of daily life overwhelm us and send us into unhelpful thought patterns. Before I learned mindfulness, I suffered greatly from depression and even had thoughts of suicide. Now, though – thanks to a wonderful therapist and my committed study and practice of mindfulness techniques – I have tools right at my fingertips that can help me through the hardest times. My goal is to share these tools with as many people as possible so others can feel empowered to help themselves, too.
I invite you to try these three mindfulness techniques for yourself and see what impact they have on your mental state and well-being.
You know how it is when you're feeling like crap? It's your body's way of saying, look, we need a re-boot! Listen to me and just clear your books. We need a rest! You know it and I know it when that happens. The question is: do we pay attention?
I did when this happened to me recently, and I wanted to tell you how I wrangled self-care while feeling lousy.
Transition Time
It's that time of year, September/October, when we're transitioning into fall. We're going from raw foods and the heat of summer to the precariousness of fall, that changes from warm or hot to rainy and cold in the blink of an eye. We're a little more vulnerable. This is the perfect time to really pay attention to what your body is asking for, and what it's rejecting! 
The fall and winter can be a tough time to be consistent with our health regimens. When you consider the change in weather, back to school season and the holiday season that is fast approaching our health and wellness can easily take a back seat. This article will give you fun and easy tips to stay healthy and live well.


Stay Consistent (But Be Kind To Yourself)
As the weather becomes more chilly, and the wind picks up our motivation to get outside seems to disappear completely. It makes total sense, who want to go for a run when it dark and cold out? However, if you bite the bullet and go, there are huge benefits. Working out outside in cooler weather is actually easier and the risk of dehydration is less too.
Even if you only go for a walk there are a ton of health benefits like burning calories, increasing your body's blood flow, and can help you reduce stress. If you don't work out for some time, it's okay. Start again as many time as you need to. It's easy to make excuses for ourselves so don't fall into that trap or don't for too long.
Traveling can be for leisure or work related but in both cases it may create havoc in your daily routine. Frequent traveling is often associated with negative health and mental effects which includes aches and pain in the body, stress, anxiety, exhaustion and sleepless nights. It can be caused due to the change in time zone and daily routine. It takes a toll on your body and you feel less energetic. It takes quite a while to shrug off the jet lag and come into your normal self to enjoy the travel. 
Stopping yourself to indulge in binge eating or eating the unhealthy street food becomes a task. This results in disruption of our healthy habits too, which might lead to weight gain. 
Traveling helps you push your boundaries and break free from the bubble of your comfort zone, therefore, creating many opportunities to evolve as a person and widen your worldview. As it is unlikely that you can hit the gym while traveling, this is where yoga can be of utmost importance as it does not require any equipment. Even if you are not carrying a yoga mat, you can perform some yoga asanas. Yoga helps you to find peace and calm in the chaos. By integrating yoga with your traveling you can have an experience of both worlds and emerge as a transformed person. 
There was no siren nor light nor gentle nudge that woke me up. Nothing external interrupted me and yet, suddenly, in the middle of the night, I was awake and my brain was racing.
I wanted sleep; I needed sleep; and none was coming. All I could do was lie there, frantically making mental lists and composing what seemed to be brilliant and urgent plans that I would no doubt forget in the morning.
I didn't even need to look at the clock. I knew what it would say. It had said the same thing every night for a week: 2:30 a.m.
"If you wake up between 2:00 and 3:00 and can't go back to sleep because your mind is going too fast, that's the hallmark of a Vata imbalance," said Dr. Jim Davis, who runs the Integrative Wellness Center at Maharishi University of Management in Fairfield, Iowa.
As soon as he said it, I knew he was right. After a long slog through the American medical landscape, I had found an ayurvedic doctor who determined that I'm equal parts Vata and Kapha, but when I'm out of balance, it's my Vata that goes haywire.
And this time of year, the dry months of late fall, can send anyone's Vata spiraling. And when that happens, say hello to 2:00 a.m.
"Troubled by questions all my life, like a madman, I have been knocking at the door. It opened! I had been knocking from the inside." -Rumi
I've Been Thinking...
This week, I interviewed Dr. Mehmet Oz about his mother's recent Alzheimer's diagnosis. As his friend, it ached me to learn that he and his family are now confronted with this mind-blowing disease. Long after the interview was over, though, I found myself thinking even more about something Dr. Oz had said to me about himself. I found myself thinking about how he said he felt shame and guilt that he had missed the warning signs of his mother's health.


A one-woman show of my paintings opened at Commonweal in Bolinas, California (August 14 - October 31, 2019) on a Saturday in mid-August. It's called Daily Bread, from a quote I've always loved of Emerson's: "The sky is the daily bread of the eyes." As I wrote in the introduction to the show, 
"The sky is the daily bread of my imagination—always there, ever-changing, never static, vast, wondrous, soul-nourishing, full of mystery and awe."

"The sky is a visual way to think about life—and to keep perspective on our own experience. It's so much greater than the sum of its myriad parts, overarching everything, seductive with the constant movement of the atmosphere, enchanting as it keeps us engaged in the present moment."
Having my own show, at Commonweal, where I had cooked for the Cancer Help Program 20 years ago, was an astounding experience where, in the healing space of Commonweal, my paintings took on a magical life of their own.
I'd never seen these 13 new paintings together before, much less in the beautiful 1,500 square-foot gallery at Commonweal. I couldn't truly know how they would look and feel until I hung the show in the gallery the Monday before, and until the people were there to interact with them—people who are really special in my life, along with memories of people who have passed.
Self Care is a multifaceted process of engaging in activities that promote a healthy functioning in us and enhance our well being. Self Care is completely vital to build resilience towards stressors, which seem to be inevitable in our lives.Looking after our minds and bodies is completely essential in creating a balance, with the aspects available for living the best possible life.


SELF CARE AS A LUXURY

Many of us grow up thinking that it is essential to believe, that we need to suppress our inherent desires, and lead a strict and disciplined life in order to reach our desired goals. In true reality, this is not at all the case. We need not assume that Self Care is a luxury.

SELF CARE AS A PRIORITY

It needs to be viewed as a priority. It is essential, to keep the mind, body and spirit, completely in sync, to feel relaxed and easy, and to be able to handle life, from a positive perspective.

Most people feel overwhelmed, tired and ill equipped to handle life's challenges, as they seem to view Self Care as a luxury, and therefore deprive themselves the comfort of a balanced life.
The 21st century is the era of development and advancements, with innovations taking place at every corner. The miraculous mind is working hard day and night to build a better future. With the increasing updates every day, our mind often sets back and becomes a victim of stress. Just like every other machine needs rest, our mind functions in a similar way, but to cope up with the competition and the dynamic life we often ignore this factor pushing down our efficiency and inviting stress.
Office today has become more stressful than ever, barely giving an employee any time for his personal work. The huge workload and decreasing deadline pressure add to the stress and anxiety. The lives won't become any easy until we fix our minds and restore them to their natural patterns.


"I scream, you scream…" — you know how it goes. Ice cream is one of the most beloved foods in the world. The average American consumes more than 23 pounds of ice cream per year. And with the plant-based movement in full swing, more and more consumers are opting for non-dairy ice creams.
You may know that my family is intimately familiar with ice cream. My grandfather, Irv Robbins, co-founded Baskin-Robbins. At the time, most folks seemed content with vanilla, chocolate, and strawberry — the classics. But he thought there should be more flavors — 31, in fact! And he brought smiles to a lot of faces.
Unfortunately, in case anyone on the planet missed the memo, ice cream is not a health food. It turns out that despite its delicious flavor, eating a lot of ice cream doesn't do any favors for your long-term health.


Why Ice Cream Isn't Healthy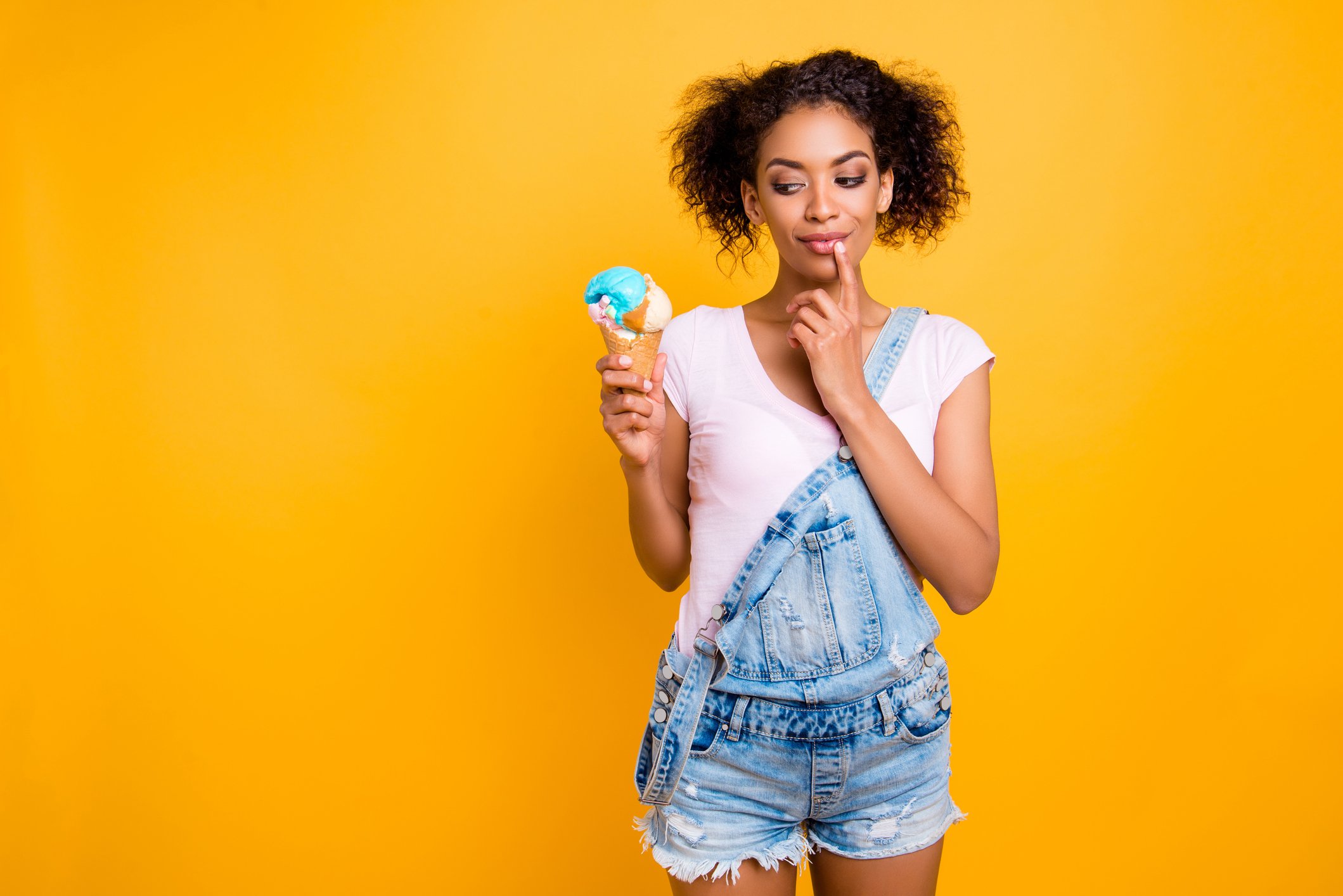 Daily Personal Support
Join Panache Desai every morning and for support in reconnecting to the wellspring of calm and peace that lives within you and that has the power to counterbalance all of the fear, panic, and uncertainty that currently engulfs the world.
 Designed To Move You From Survival and Fear to Safety and Peace
Popular Wellness Articles
Join Soulspring for conscious insights...
...on all things life, wellness, love, transformation and spirituality...
 PLUS! Get your FREE Guide: 12 Mindfulness Practices to a Peaceful Mind